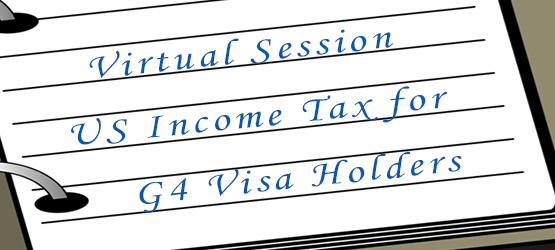 Income tax season is here! 
In this virtual seminar, Dale Mason, CPA will discuss the income taxation of G-4 visa holders and will help you determine whether you have to file a 2020 U.S. and state income tax return. 
Topics covered in this seminar will include:
How to file a Form 1040NR tax return
When is a Form 1040NR due?
What is your tax filing status? 
Can you and should you file a joint income tax return with your spouse?
The most common errors to avoid when completing a nonresident tax return.
Tax planning and financial planning opportunities available to G-4 visa holders
Much, much more.....
Time will be set aside for your questions.
To view the video of this session, Click Here
You must be registered in order to receive the webex link. The link will be mailed to all registered participants the day before.
---
People who register are expected to attend the sessions. If you can no longer attend, please notify WBGFN at familynetwork@worldbank.org