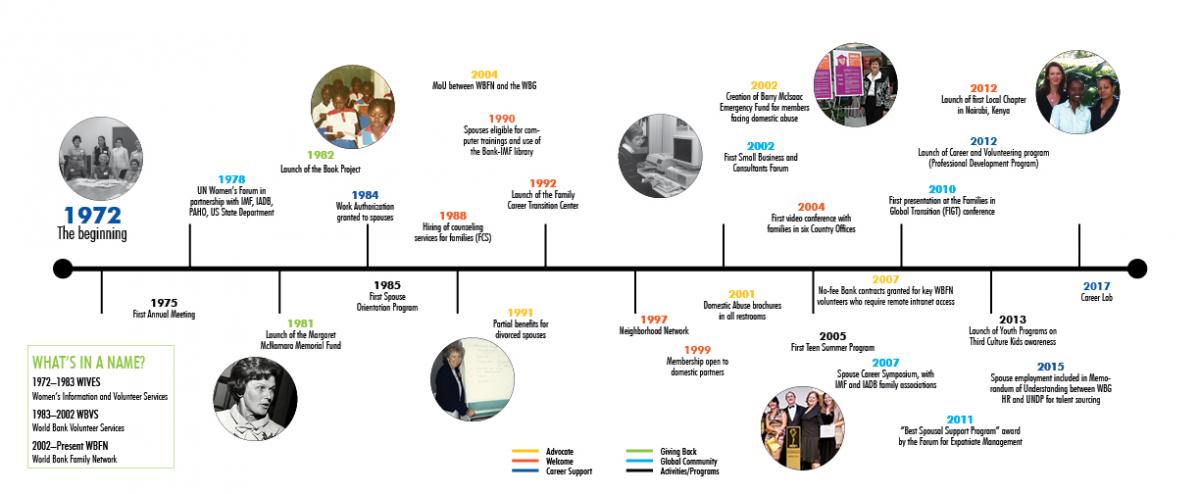 Identifying trends and finding solutions...
It was only in 1984 that work permits became available to spouses, thanks to WBFN's strong advocacy. Since then, WBFN member demographics have changed significantly: the male to female ratio has increased, and the great majority of our members comprise dual-career families. WBFN identifies the trends and adapts its program to meet new challenges, like the WBFN's basic support for job seekers that has developed into a full-fledged career advisory program.
As most WBG families are now dual career families, the Professional Development Program is continuosly improved to provide a wide range of services to assist WBG spouses and domestic partners in their career path. We offer job search workshops, webinars and resources, thematic skill building and information sessions, professional groups, volunteering and networking opportunities, self-employment and entrepreneurial opportunities and LinkedIn group for sharing job opportunities.
Broadening our horizons...
The Family Network has strenghtened support for our families worldwide. From the Overseas Briefing in the 1980s to today's Worldwide Program, we have established a strong network of local chapters and expanded our serivices globally.
Today the Worldwide Program helps families connect with other families in more than 50 Country Office locations and provides ongoing support to help them with their transition.
One of our latest initiative is our pilot project in 3 select Country Office locations, India, Brazil and Ghana to deliver appropriate and effective assistance in terms of dual career and family support in the field. This pilot will determine the most important needs of the relocating families, identify shortcomings in the current support structure and offer appropriate solutions strategies that we will later expand on a global basis.
Celebrating 45 years
Main milestones