Join us for a year-long celebration of WBGFN's 50th Anniversary, from monthly Webinars, Competitions, Men's Workshops and so much more.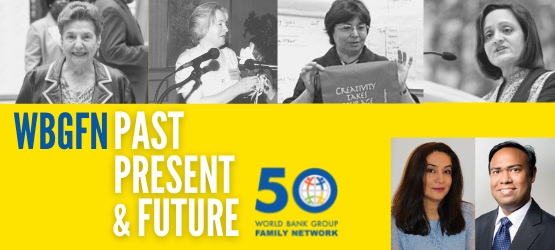 On Thursday, February 24th 2022 at 9:00am we had our 50th anniversary kick off - if you missed it, no problem, please see the recording here
As we kick off our 50th Anniversary celebrations, we invite you to join us for the very first of our special virtual events 'WBGFN – Past, Present and Future'. 
Come be a part of this very interesting session where a panel of representatives from each decade will engage in stimulating discussions on WBGFN – Past, Present and Future. 
Listen to them share their perspectives on how the acuity of vision of the Founding Mothers of supporting families has remained constant and yet evolving over 50 years.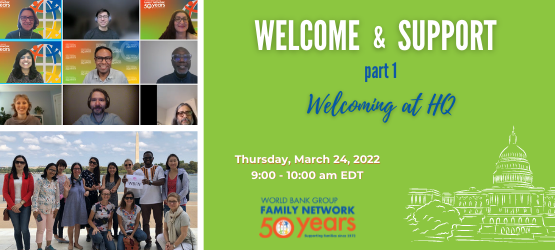 On Thursday, March 24, 2022 we held our second 50th Anniversary special virtual event, 'WBGFN – Welcome and Support at HQ Part - 1'.
Those who joined us learnt about the first point of contact at the Family Network for new families and members, the first smile that greets you when you arrive – the Welcoming Team. Meet our past and current Welcoming Chairs and listen to members share interesting stories on how the ever-evolving Welcoming program has supported and impacted their lives while transitioning to a new country and to a cohesive WBGFN community. The recording of the session can be found here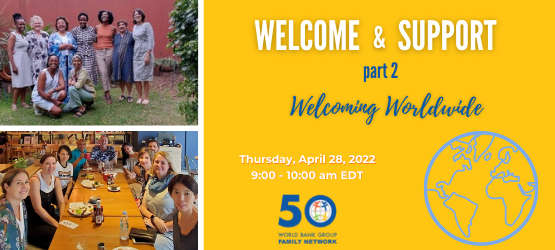 On Thursday, April 28, 2022 we held our second 50th Anniversary special virtual event,  'WBGFN – Welcome and Support Part -2, Welcoming Worldwide'.
Join us and discover the activities and communities offered by WBGFN around the world. Hear how we welcome new families in WBG office locations, before and after they move, and offer ongoing support in cohesive WBGFN communities.
Meet the WBGFN Worldwide Program Team, Regional Champions, Local Champions and Connectors. Travel the world, as members from different regions share their experiences. Learn how WBGFN is constantly changing to meet the global situation.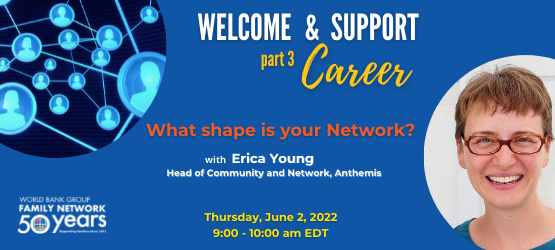 What shape is your network? Did you know that the shape of our networks can influence our wellbeing, relationships and community?
Join us for our next 50th Anniversary special virtual event, 'Welcome & Support Part – 3, Career'.  Facilitated by expert speaker Erica Young, this session will help you discover and learn about the shape of your network and what you can do to make it more resilient for today. Erica will lead us in our thought provoking exploration of the shape of our networks and how different shapes are better for transitions, times of challenge and career opportunities. 
NEW DATE: Thursday, June 2 - 9:00 a.m. to 10:00 a.m. (EDT)
Zoom Link and Connection details will be email to all WBGFN Members- so check your in-box
 
We look forward to seeing you there!
---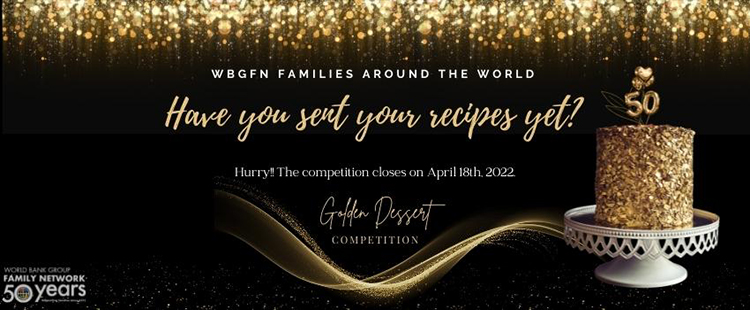 And....The Winners are.....................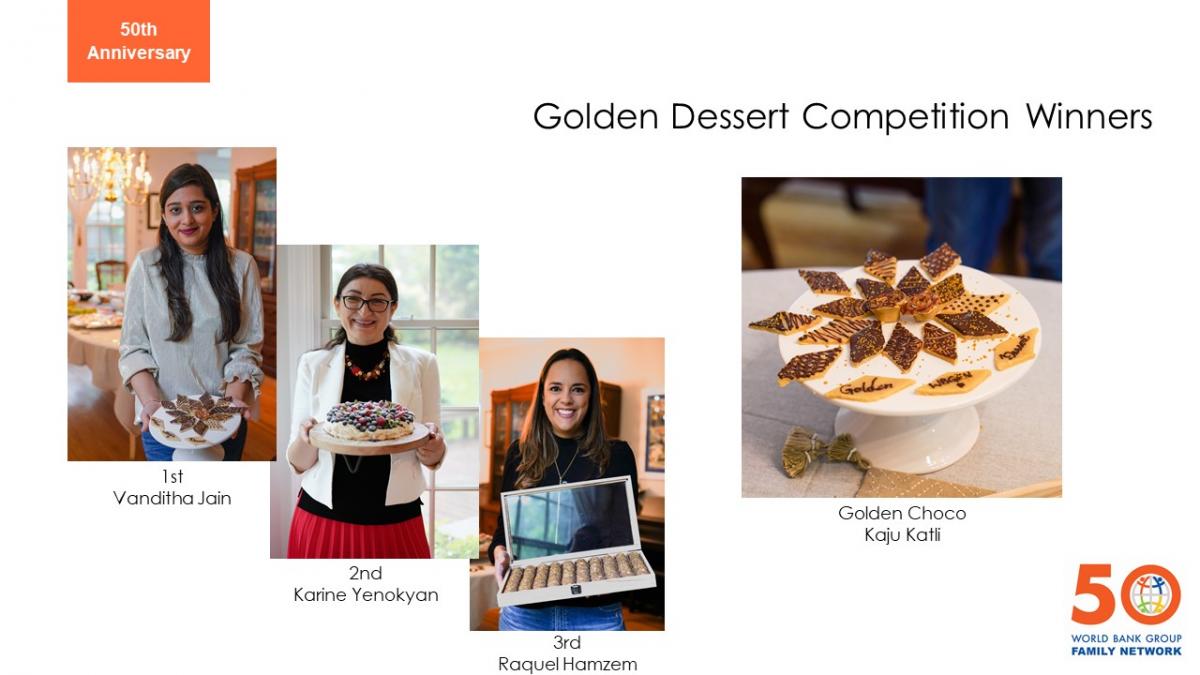 The Queen of the United Kingdom celebrated her historic reign's platinum jubilee with a 'Platinum Pudding Competition'. 
Here at the WBG Family Network, as part of our year-long 50th Anniversary celebrations, we invite all WBGFN families to participate in our grand Golden Dessert Competition. 
So, let's get creative and put on those chef hats. Non-professional home cooks, bakers, foodies, or any of you with a flair for desserts, are all invited! (refer to rules & regulations for entry criteria).
The winning dessert will be marked as WBGFN's official 50th Anniversary dessert! And the top 3 winners will walk away with fabulous prizes from none other than Le Creuset!!  
Entries Have CLOSED:  Competition Rules & Regulations/ FAQs: CLICK HERE
Winners: 
Round 1 - Our judges will shortlist finalists from the dessert entries received, who will then be contacted via email with further details. 
Round 2 - Finalists will move to the second round, where DC based finalists will bake their dessert for the final tasting event (to be held in DC in the third/ fourth week of April, subject to Covid conditions). For finalists based outside of DC, a representative from DC will bake the dessert and present at the tasting event. 
All finalists will be contacted via email with details.
and.....the winners are.........
* The WBGFN Golden Dessert Competition will be judged by a panel of WBGFN members and volunteers who are not professional chefs, and who want to share their passion and enthusiasm with WBGFN families.
* By participating in the Golden Dessert Competition, you provide consent to have the recipe and photos used for promotional purposes, including social media, by WBGFN.
Workshop 1 - Building Resilience & Strength during challenging times - was held on January 25, 2022
Featuring guest speaker, Shane Joseph, this workshop will focus on the major impacts of the COVID-19 pandemic on behavior, health and overall wellness, and strategies to address common concerns and tangible tools to develop resilience factors.
Workshop 2 - Adjusting to Change: The Transition Experience - was held on February 15, 2022
Featuring guest speaker, Yvonne Quahe, this workshop will help participants learn about the transition experience for newly arrived World Bank Group families, and  in particular accompanying male spouses.  It will address the unique challenges that male accompanying spouses face when relocating to a new country. It will provide participants with  a framework to understand and work through these challenges given their own individual situations. There is no one size fits all solution, come and discover what size fits you and your family. 
Workshop 3 – Navigating Couple Relationships: was held on Tuesday, March 15, 2022 
Featuring guest speaker, Michael Clark, in this workshop participants will gain an understanding of the possible impacts of relationship patterns that may not be healthy.  This content rich workshop will examine behaviors in relationships that may be harmful to you or your partner, and address ways to developing and maintaining strong loving mutually respectful relationships.  Strategies on conflict management, stress management and communication skills will be offered.  
Workshop 4 - Positive Fathering was held on Tuesday, April 19, 2022 
In this workshop participants will be educated in the various types of fathers and provided with strategies to be a positive force in the lives of their children. Researchers indicate that when fathers are present in the lives of their children, they have higher academic achievement, greater school readiness, overall great sense of self, high self-esteem, and fewer behavioral programs.
Workshop 5 - Physical Health for Men was held on Tuesday, May 17, 2022
In this workshop participants will learn from an expert Physical Therapist on ways to achieve optimal physical health and wellness. Participants will learn about ways to keep their bodies healthy which includes tips on lifestyle behavior choices, nutrition, exercise and sleep.
DATE; Tuesday, June 7, 2022 12PM to 1PM (EDT)
Workshop 6 - Men's Mental Health
In this workshop participants will learn about mental wellbeing and the challenges to them as they particularly relate to men. The goal of the workshop is to support and engage participants to recognize the signs and symptoms of mental ill health and increase their understanding of relevant support options.
Zoom link and invitation will be sent to all male members of WBGFN via email