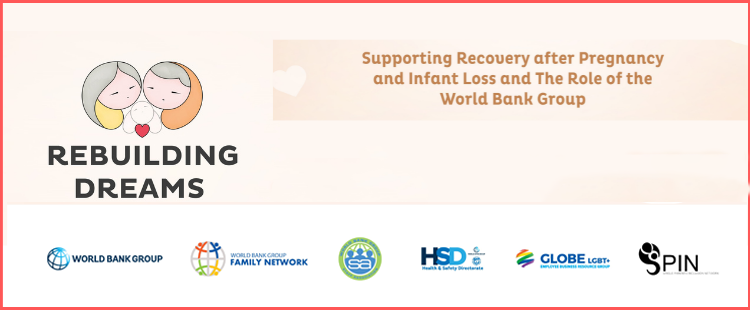 The Staff Association and the SPIN (Single Parent Inclusion Network) Working Group is proud to partner with WBG/IMF Health & Safety Directorate (HSD), WBG Human Resources (HRD), WBG LGBT+ Employee Business Resource Group (GLOBE), and World Bank Group Family Network (WBGFN), to start the conversation on a far too common but undiscussed issue facing staff and their families: pregnancy and infant loss, recovery, and support. 
Please view our Parental Loss video below:
Wednesday, October 20, 2021
Please see attached pdf documents at the bottom of the page
Monday, January 10, 2022 Session Reference Links
Why We Need to Talk About Losing A Baby 
English
Information Sheet: LGBTQ Pregnancy Loss - 
English
Partners Too - 
English
Pregnancy Loss: How to Cope – 
English
What I've Learned from Counseling Couples Through Miscarriage - 
English
Craven, C., (2019). Reproductive Losses: Challenges to LGBTQ Family-Making.
Davis, D. (2016). Empty Cradle, Broken Heart: Surviving the Death of Your Baby.
Devine, D. (2021). How to Carry What Can't Be Fixed: A Journal for Grief.
Devine, D. (2017). It's OK That You're Not Okay.
Kohn, I. (2000). A Silent Sorrow: Pregnancy Loss: Guidance & Support for You & Your Family.
Kohner, N., & Henley, A. When a Baby Dies: The Experience of Late Miscarriage, Stillbirth and Neonatal Death.
Osborne, S. (2019). The Miscarriage Map: What to Expect When You Are No Longer Expecting.
Osborne, S. The Miscarriage Map Workbook.
Rothert, D. (2019). At A Loss: Finding Your Way After Miscarriage, Stillbirth & Infant Loss.
Wenzel. A. (2014). Coping with Infertility, Miscarriage & Neonatal Loss: Finding Perspective & Creating Meaning.
Zucker, J. (2021) I Had a Miscarriage: A Memoir, A Movement.
Miscarriage Association - 
Site
Postpartum Support International - 
Site
Resolve: The National Infertility Association - 
Site
Return to Zero (RTZ) HOPE - 
Site
Share: Pregnancy & Infant Loss Support - 
Site