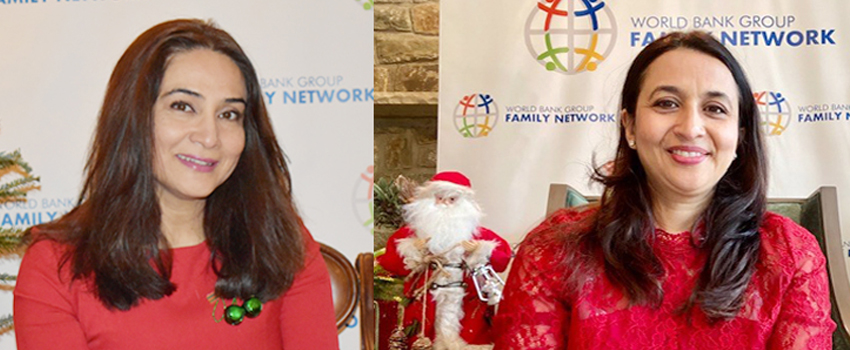 New Year's President's Message January 2021
Hello to our very dear members. With 2020 ending, we wanted to reach out and send our best wishes to you. What a year it has been for us! It's a year that has taught us resilience, gratitude and patience; made us think of those in need and most of all it has made us realize how important our health and wellbeing is. 
For us, it has been a busy year with our teams striving to offer new enriching programs, workshops, seminars and events to our members and their families. After going virtual we were able to broaden our reach and make a strong worldwide connection. Our Thursday Travels became extremely popular for everyone irrespective of where they were located. Information and experiences shared by WBG Families are extremely valuable and no travel guide could walk us through what they shared. We hope to resume our travels in the new year. COVID-19 was no deterrent to our resolve of making WBGFN a truly global organization. A true example was the annual Children's Holiday Party held in December. This year we managed to hold not one but two festive parties for our little ones. By offering a virtual CHP, families were able to register and participate from across the globe for a fun filled event. It warms our hearts to say that we truly became a strong worldwide WBGFN in 2020 and will continue to build on it in the new year. 
December was also the month for the launch of the Parent Empowerment Labs – sets of four workshops offered to WBG staff and spouses focused on self-care, mindset, roles and relationships. Please join us for the next seminar focusing on "Mindset; how do I empower myself and those around me with a productive MINDSET?" on 14th January 2021. Please
click here
for all the details to join and videos of past seminars. Once again, our aim is to equip our families with the right tools to thrive as a family unit rather than merely survive. 
We will continue advocating for our member's interests and strive towards their wellbeing. Our will and conviction towards community focus has become stronger than ever. The year ahead will bring its own challenges but we're sure by working together, keeping focused on our priorities and giving precedence to our members, we can fulfill our ambitions. One of the greatest joys of this season is the opportunity to say thank you and to wish you the very best for the New Year!
Take care, stay well! 
Best Wishes,