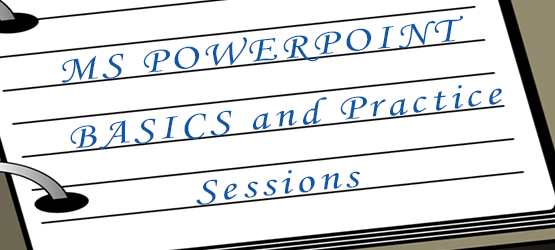 This session is now full and registration has closed
---
New dates have been confirmed 
Nov 22 for Basics
Dec 6 for Practice
---
THEMATIC SESSION (2 days): MS POWERPOINT BASICS and Practice**
** Please note that attending the first session is a prerequisite for the second practice session. Only participants who attend the first session on November 22 can participate in the second session on December 6
Presenter: Annet Stierman, IT Professional.
Learn the basics of Microsoft PowerPoint. 
During the first day of the session, we will cover the following:
How to anticipate on your audience

Timing
Anticipating your audience
Elements of a professional PowerPoint presentation
How to create a consistent PowerPoint Presentation

Create a template
Insert graphics
Create your own Graphics
Basic formatting
The second day of the session will entirely be dedicated to practice and hands-on experience on creating slide for a Powerpoint Presentation. Please prepare something specific you would like to use for this practice session. 
** Please note that attending the first session is a prerequisite for the second practice session. Only participants who attend the first session on November 8 can participate in the second session on November 22. 
Both sessions are hands-on, please bring a laptop with PowerPoint on it. Please make sure that your laptop battery is fully charged.
---
People who register are expected to attend the sessions. If you can no longer attend, please notify WBFN at familynetwork@worldbank.org