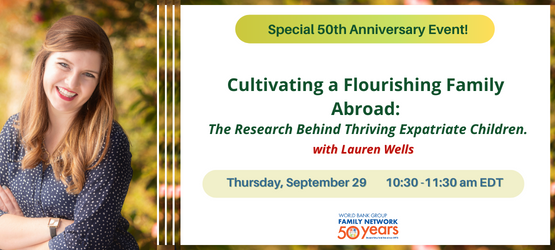 Most World Bank families experience high mobility, and relocation impacts the lives of our children.  What determines whether expat children (Third Culture Kids) thrive amid their globally mobile experience? The Family Network invites you to our next 50th Anniversary special virtual event 'Cultivating a Flourishing Family Abroad'.
In this session, Lauren Wells, will unpack research related to the impact of multiple moves on children and how parents can mitigate risk and promote their children's wellbeing. We will look at practical ways that parents can be intentional about raising resilient TCKs so the whole family can flourish abroad.
Join us for this very interesting session and learn how to help our children flourish despite living highly mobile lives.
Cultivating a Flourishing Family Abroad: The Research Behind Thriving Expatriate Children. 
DATE: Thursday, Sep 29 - 10:30a.m. to 11:30a.m. (EDT)
Connection details will be sent to all members via email
 
We look forward to seeing you there!
About Our Speaker: Lauren Wells, CEO and author
Lauren Wells is the founder and CEO of TCK Training and author of Raising Up a Generation of Healthy Third Culture Kids, The Grief Tower, and Unstacking Your Grief Tower. She is an Adult TCK who spent her teenage years in Tanzania, East Africa. She sits on the board of the TCK Care Accreditation as Vice Chair and is part of the TCK Training Research Team focusing on preventive care research in the TCK population. 
---