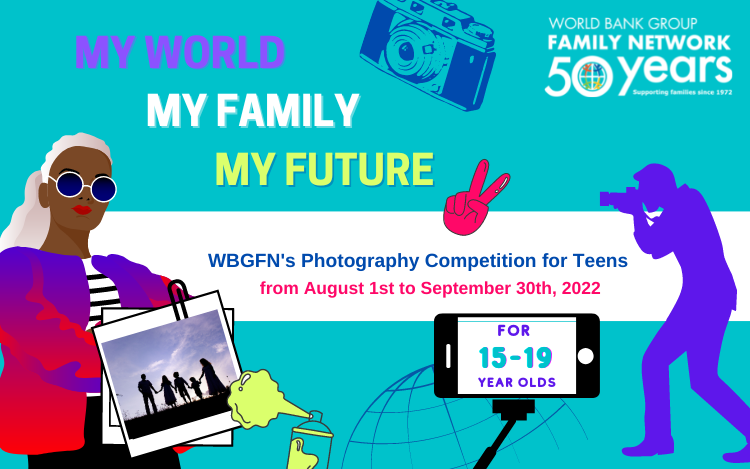 As we celebrate our 50 successful years, we continue to host a variety of events for our members. This segment, however, is for your children – mainly teenagers (15 to 19 year olds). 
Photography may already be part of your daily life by way of social media, but have you had the chance to share your work with the World Bank Group Family Network?
Having taking part in the contest will not only highlight your photography skills, make you famous (see below) but will also prove your willingness to take a risk and your initiative to seek out opportunities.
Well, this is an opportunity to be proud of your skills and share with us your work as part of our 50th Anniversary celebrations.
If you're interested in entering the WBGFN photography contest, keep reading to learn more.
Theme: My World, My Family, My Future
How to enter:
Entries for this contest have ended
The deadline of submission is Friday, 30th September 2022 at 2359 (Washington DC time).
For complete Rules and Regulations, click here
For any questions related to the competition please email us here
Prizes:
1st, 2nd, and 3rd prize will be awarded and your photographs will be featured in our monthly newsletter and displayed at our HQ office in Washington DC!
Judges:
The competition will be judged by three enthusiasts, and they will carefully select your best shots too. Imtiaz Khan, Naheed Bilgrami and Scott Cowcher await your submissions.
We are super excited to receive your photographs for this competition!! 
Your WBGFN Team