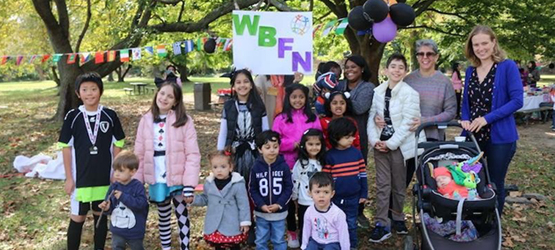 Join us for the WBFN Fun and Fit Spring Picnic!
Registration is now open- please click  to register
VENUE: Belle Haven Marina 1201 Belle Haven Rd, Alexandria, VA
 Transportation:

By car: approach the lane where  Belle Haven Park is situated from  left or right from George Washington Park way. Please note: Belle Haven Marina will be straight, but the park where we have the picnic,  is on the  LEFT and park your car at designated places. 
By Metro: take Huntington Metro station (yellow line) 

There are picnic benches to sit on but you may bring picnic blankets if you wish to sit on the ground. Bring blankets or tarpaulin plastic if you want to sit on the grass 
At the picnic we will offer water, juice, cookies and  snacks. We ask each family to bring a dish for about 6 people.
Paper goods and drinks will be provided by WBFN.
Bathroom facilities are available near the parking lot.
An entertainer has been booked to make balloon animals and figures, facepainting for the kids, and games will be organized. We also will be having activities for the adults to enjoy the fun as well
WBFN cannot take any responsibility for the safeguarding of the children during the above picnic, therefore the parents are solely responsible especially since the picnic site is on the border of the Potomac River! Therefore please watch those little ones at all times, even when we organize some games for them!
If you need to  cancel after you have registered, please do so by emailing to Welcoming:  WBFNwelcoming@worldbank.org
In case of bad weather, please check the WBFN Facebook page in the morning by 8.00am. We cannot give an alternate rain date. Sorry! 
If you have any questions, please email  WBFN Welcoming at wbfnwelcoming@worldbank.org