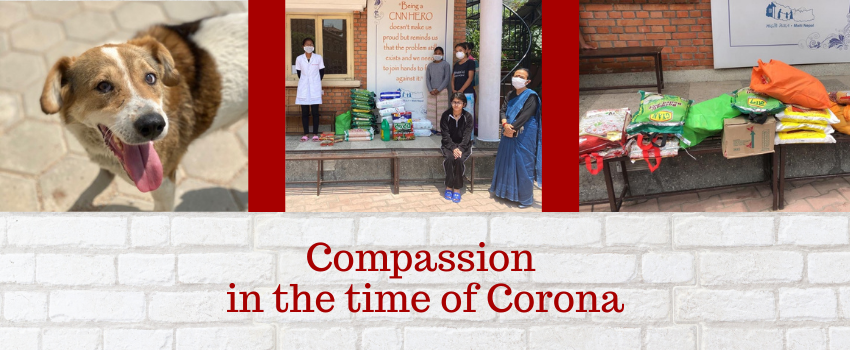 By Monica Isabel Larrieu (Nepal)
It is without a doubt that the Sars-Cov-2 pandemic of 2020 brought the entire world to its knees. For once, the entire world had a shared enemy and a common denominator. Lives were turned inside out, many irreversibly. Governments scrambled to make the best possible policy decisions for their citizens – some more successfully than others. The world's citizens had to make the best possible decisions (with scant information) for themselves and for their families. Many found themselves grounded in foreign lands without their families, as was the case for expats, students and tourists, alike.
For the World Bank global community, it was the first time we were all collectively experiencing a global crisis at an overseas post. It was certainly a departure for our spouses to have to safeguard the families' well-being, in addition to fulfilling the organization's obligation to the host countries. Some WBFN families decided to return home for personal or medical reasons – some even separating from their nuclear units. Other families decided to ride out the storm in their host countries.  
My family fell into the latter category. Early on, my husband and I chose to not separate during this crisis and remained together in our host country, Nepal, along with our two children whose school moved online. This was an excruciatingly difficult decision for both of us given that we were leaving our aging parents on the other side of the planet.
Truth be told, World Bank families are very fortunate to have had choices and options in the face of this crisis, and incredibly lucky to not have livelihoods cut, as much of the world had to experience. In the case of Nepal, the nation quickly jumped into total lockdown mode which wreaked economic and social havoc on its population. Daily wage earners were unable to work, local NGOs struggled to keep their heads above water, thus affecting their vulnerable beneficiaries, small businesses tanked and, simply put, the poor only got poorer, and the hungry hungrier.
I decided early on to keep myself productive and find ways to help in my community during these strange times. It was a basic sense of civic duty and community service, of course, but it also served a selfish purpose, too – I wanted to show my children that in a crisis, one needs to be compassionate and reach out to help the marginalized and vulnerable, even if we are scared or confused. In all honesty, I also needed to distract myself from the incertitude and unknown landscape of a global pandemic.
I ended up organizing a few different charity causes during the lockdown in Kathmandu. Two efforts were flash fundraisers for local NGOs that were both collaborations between WBFN Nepal and the Nepal Country Office. The first NGO - MAITI Nepal – began with a telephone conversation with another WB family and how we wanted to do something to help communities in need. We identified this local NGO that helps and houses victims of sex trafficking and their young children, many of whom have HIV. As a collaboration between WBFN and the Country, we raised funds and procured much needed protective gear, medicines for chronic illnesses, and food staples to help cover the 255 beneficiaries living at the NGO. The second fundraiser was for an NGO based near the border with India, where tens of thousands of migrant workers returning to Nepal from India urgently needed to be quarantined for two weeks before being allowed to return to their villages. The NGO at the forefront – BlinkNow – was mobilizing immediate relief and COVID preventive efforts. BlinkNow needed the quick procurement of protective gear and equipment while development partners were gearing to enter the scene. The World Bank Country Office staff and WBFN collaborated to fundraise, as well as collect donations-in-kind to meet those immediate needs within a few days of initiating the effort.
However, the most fulfilling work for me, by far, was helping the street dogs in my locality. An animal rescue group that I collaborate with in Kathmandu asked the broader community to help feed street dogs during the lockdown because the restaurants, butcher shops and stores that regularly feed the street dogs would be closed indefinitely. Once the lockdown began in late March 2020, I fed these street dogs every day for the 120-days of total lockdown, and then every other day when the total lockdown was partially lifted. Now a regular to the dogs and their community members, I learned about each dog's story, and even gave names to the nameless. I witnessed them get sick, have cancer, get hit by cars and even die from vaccine preventable diseases. Eventually, I started nursing their wounds, taking them for treatments, giving medications, as well as taking them to get spayed and vaccinated. I became a godmother of sorts and continue visiting them, treating them, assessing their situation, liaising with the community members so they, too, can protect and advocate for their community dogs. My family and I even fostered our sixth dog, starving and pregnant, and witnessed the whelping of five innocent little creatures who would have otherwise been drowned by community members in a nearby locality. Ultimately, all five puppies were adopted out locally (oops, we kept one!), an incredibly difficult task, I must add, and the mother was adopted by a lovely family in Canada.
These beautiful creatures, sentient beings and sweet souls had a lasting effect on me and touched me profoundly. Even though I was the one trying to help them, they, in the end, were helping me. They gave me a purpose every day and were a delightful distraction this tumultuous and worrisome time. Seeing these street dogs had become the highlight of my days during the time of Corona.
(Readers can follow my canine adventures on Instagram
---