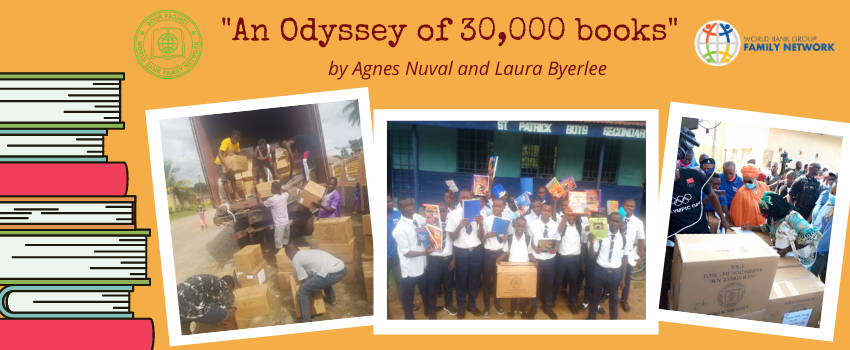 by Agnes Nuval, and Laura Byerlee
In a little-known corner of the World Bank's J Building Basement 3, a volunteer team enthusiastically carries out its mission; to assist in educating children in developing countries through book donations. The team is the WBGFN Book Project, which meets three days a week to unpack books donated by the Maryland and Virginia public and private schools, and individuals in Washington DC and other states. Volunteers sort the books according to age/grade level and subject matter, stamp each book to show that they are donated gifts, and pack them for shipment to a beneficiary country.  
The timeline between receiving the request from a person who is the shipment's Sponsor, and the books arriving in their country is usually about two years. We receive a request, meet the Sponsor or his/her local representative and if it seems like a workable project, we request details to organize the books allocation to various schools and institutions. There is usually a pipeline, a waiting list of requests, so a specific request must await its turn. Then the volunteers begin to pack, and when packing is complete, we call our Bank "partners" to transport the boxes to be loaded on to a container - either 20' or 40'. A 40' container consists of around 30,000 books in 576 boxes, and a 20' one, of course around half of that. Off to the high seas goes the container and we rejoice when the books arrive safely in the schools and institutions, usually two years after the initial contact was made.  
Occasionally, things don't go according to plan. Such was the case with a shipment to Sierra Leone.  We received the initial request in September 2017 from Mr. S.S. Mondeh on behalf of
Partners in Poverty Reduction Inc.
to provide books to schools in the Kono and Kenema Districts. Packing began after details had been worked out and it was Sierra Leone's turn.  All 576 boxes were packed by March 2019 and the 40' container left Baltimore in late April.  The container arrived in Freetown Port, Sierra Leone on May 31, 2019.  
To our dismay, obstacle upon obstacle got in the way of its release. It was as if the shipment was jinxed! First, a change in the consignee necessitated additional paperwork, and an application for duty waiver was only approved in July. In September we received word that "unforeseen obstacles" had arisen. In October the Sponsor and the Ministry of Basic and Senior Secondary Education reached an agreement, with the Ministry agreeing to pay all charges and releasing the container to the Sponsor. The First Lady of Sierra Leone also got involved - she is from the Kono District and naturally took a keen interest in the project to provide books to the District's children. At some point the Ministry officials who Mr. Mondeh had been dealing with, were dismissed from their posts due to corruption accusations!  So, Mr. Mondeh had to establish a relationship with the new Ministry and begin all over again. We had no further information until April 2020 when we were told that at the end of a 14-day Lockdown due to the Pandemic, negotiations would continue. Mr. Mondeh persevered, refused to give up, moved heaven and earth, knocked on doors for months until doors opened on September 30 and the books were in the children's hands by October 12, 2020.
Thankfully, not all shipments are as difficult as this one was, and we look forward to returning to the J Building's Basement 3 when circumstances allow, and we can get back to carrying out the Book Project's mission. Please
click here
to view some wonderful photos from Mr. Moneeh on the final arrival of the shipment.
---