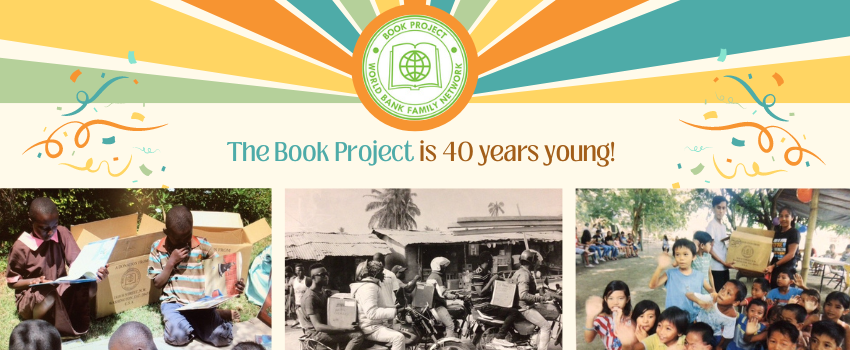 It's the photographs that stay with you – especially those smiles.
A group of school children in Kenya kneeling on the grass, eagerly thumbing through story books; a group of elementary school children in the Philippines smiling and waving at the camera as they celebrate the arrival of a shipment of books for their classrooms – books in math, geography, science, English and library books; a team of volunteer distributors in Sierra Leone form a caravan on motorcycles they have loaded with boxes of books for distributing to schools.
For forty years the mission of
WBGFN Book Project
has been to collect and deliver used school textbooks and library books to children across the globe, helping to make possible the gift of reading, learning geography and the rudiments of math and science to thousands of school age children from elementary all the way to high school and university.
It all began back in the spring of 1982 when two women – Peggy Clausen, wife of the President of the World Bank and Babs Knox, wife of the Vice President of the World Bank's Africa region visited an orphanage in Lagos, Nigeria and took note of the lack of books and toys. That trip planted a seed. The women were determined to do something.
By that summer, back in Washington, meetings were held with the World Bank Volunteer Services Executive Committee about forming a project to collect used textbooks from area schools as donations for needy schools in Africa and elsewhere – a proposal the Executive Committee unanimously approved. By the following summer, in July,1983, the Book Project was duly incorporated in the District of Columbia as a tax-exempt charitable organization with Babs Knox as its first president. By August, the first shipment of books was sent to Lagos, Nigeria. That orphanage visited by Peggy Clausen and Babs Knox was among the recipients.
From those early days, when shipments were packed and distributed with the help of Resident Mission staff and spouses volunteering their time and energy, the WBFGN Book Project has grown, continuing to partner with sponsors from many countries seeking books for their schools. Yet it has always remained a special undertaking steered by a group of dedicated volunteers that, today, consist of members from WBFGN as well as World Bank retirees. It continues its work from its packing room now located in the third level basement of the World Bank's J Building where volunteers work an average of 4,500 hours per year sorting, stamping and packing incoming crates of textbooks and library books from schools in DC, Virginia and Maryland as well as donations from individuals. Logistical support is provided by GCS and its many contractors who help with the initial warehousing of book donations in Sterling, Virginia until they are ready to be received by the packing room and, once a shipment is packed and ready to go, shrink wrapping the skids and ensuring their transit via Landover, Maryland to the port.
As of 2023, the Book Project has sent over three million books to more than 100 countries.
In 2020, with the spread of COVID-19, the Book Project regrettably had to suspend its operations for two and a half years. During that time, it continued to receive requests from sponsors eager to know when it would be up and running again.
In September 2022, the Book Project resumed its operations and its first post-Covid shipment, a 40-foot container filled with around 30,000 books was received in India. Volunteers are once again busy in its packing room preparing a shipment for Sierra Leone.Future shipments are slated for Cameroon and Ivory Coast. The work continues. And, taped and tacked on the walls throughout the packing room are those photographs capturing that moment when a shipment of books is eagerly received. And those smiles are everywhere.
---