WBFN sponsors a series of seminars on topics relevant for WBG families relocating to Washington DC. These seminars are offered periodically and cover the following: US Estate Planning and Taxation, Immigration Options for G4 Dependents, Pensions, US Income Tax, and Work Authorization for G4 dependents. Recordings of previous events are available on our YouTube channel.
TBA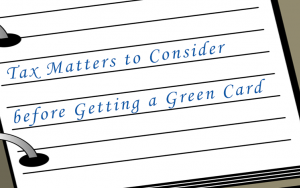 Tax Matters to Consider before Getting a Green Card
Income Taxation of those Transitioning from G-4 to Green Card Holder
More Info
The World Bank J Building J1-050
701 18th St NW
Washington DC 20006
United States
202-473-8751
familynetwork@worldbank.org

Access to this content is restricted to WBFN registered members*.
Registered WBFN members who have already created a website account, please sign in
Registered WBFN members who have not yet created a website account, please create account
Otherwise please register with WBFN