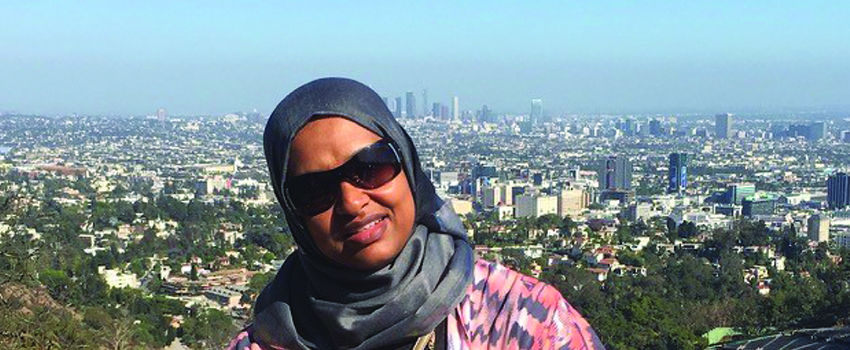 Ghadir is one of four regional champions at the WBFN. A native of Sudan, she currently lives in New Delhi, where her husband is a staff member at the WBG's country office. Regional champions are part of a network set up through the WBFN's Worldwide Program. Ghadir's region includes Afghanistan, Bangladesh, Bhutan, India, Nepal, Pakistan, Sri Lanka, and United Arab Emirates, all countries with a WBG office. Most of these countries have a WBFN Worldwide chapter headed by local champion or connector who work directly with spouses and families. It is Ghadir's job to support the Worldwide Program in these chapters.
Ghadir's support includes helping to recruit, train and guide local champions and connectors to build and maintain their communities of spouses and families; organize events; and establish and manage communication/social media channels. She is also the interface between the WBFN offices in Washington DC and the chapters, providing information, explaining services, and just as important, working in the other direction by communicating the needs of families in country offices to the WBFN. Additionally, Ghadir must fill in when a champion or connector position is empty, start chapters where there are none, and identify other expatriate organizations to share resources with. 
The needs of WBG families vary by country. In New Delhi, pollution is a constant preoccupation. Ghadir supports the champions in trying to identify best practices for minimizing exposure to pollution, and working with the WBG's HSD (Health Services Department) to get discounted face masks and filters. In Bangladesh and Pakistan, where security is a significant issue, Ghadir and the champions are organizing security training for spouses. In UAE, the chapter is new and the community of spouses must be nurtured and grown. In most countries, the issue of spouses' careers is an ongoing concern. Is there any possibility of a work visa in a particular country? How can this sensitive issue be addressed with the country's government? Which professional development resources at the WBFN can be extended to spouses spread across the globe? For example, if there is a seminar in Washington DC on ways to make a career more adaptable to a mobile lifestyle, can spouses in the country offices attend it virtually?
A further challenge is that some country offices are non-family posts, meaning families are not permitted to accompany the internationally recruited staff. These families will no longer have the right to reside in the US, as per decision of the US Department of State, so they must find a country to live in during the staff member's post.  Ghadir can help these families by connecting them up to other families who have had similar challenges, and advocating for their needs through the WBFN.
Families of local staff (hired in-country) face different issues. Ghadir will help them if there are questions during onboarding, which can be a complicated process, and understanding the culture and structure of the WBG organization. Whether it is an expatriate or local family, connecting families with families is always a key part of Ghadir's work. There is so much knowledge and experience to be found in WBG families, for example: schooling, special needs, careers, visas, travel, medicines, hospitals, banking, crime, accidents, housing, shopping, languages, childcare, health insurance, exercising, religious practice, food, legal issues, driving licenses...
In addition to organizational skills, and a deep knowledge of the WBFN and its services, a regional champion must have strong empathic and personal skills. Building and nurturing a community is not a straightforward task, because it is about creating and maintaining relationships with very diverse people. Ghadir must provide as much guidance and support as she can to the champions and connectors to help their communities thrive. 
Ghadir spends a minimum of two days a week on her work as regional champion. She has been able to do part-time work related to her field of architectural engineering, though she admits managing her career on relocation has not always been easy, something which makes her particularly sensitive to the career dilemmas of other spouses.
A strong motivator for Ghadir is that as a professional and mother of four children on relocation, she has benefitted frequently from the support of the WBFN, and she enjoys passing that help on. Although she has been a volunteer with the WBFN since 2006, the position of regional champion was created recently, which means she does not have the benefit of learning the job from others. Ghadir's positive attitude will be very important to the success of her work, as well as the knowledge that, "I consider myself to be the luckiest among expats to have an organization such as the WBFN beside us in every step of the journey".