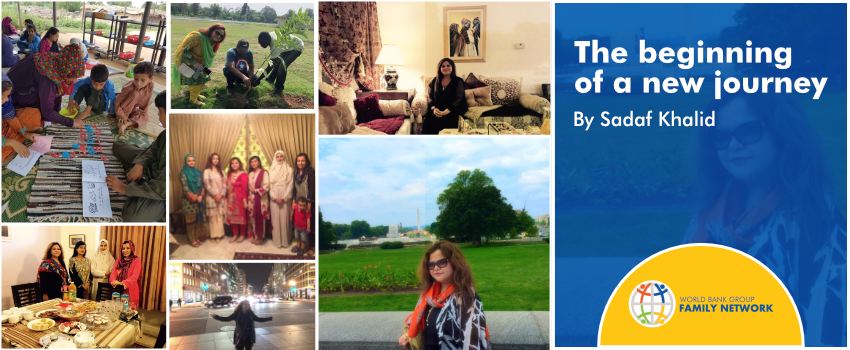 I am Sadaf Khalid. I am currently enjoying my life as a home maker, along with globe-trotting, meeting new people and sharing different experiences. I believe in the saying, 'live life when it comes to you', and  I am fascinated by the new things and surprises that life offers.
A few years ago, I had the pleasure of visiting Washington DC for a month. Looking for things to do, I was browsing the World Bank's website, when I came across some information about the World Bank Group Family Network (WBGFN). Finding it very interesting, I decided to stop by their office.
The next day I visited the WBGFN office and attended the first Welcoming Information seminar. I met with some friendly members and the Welcoming team took me through all the various activities and programs that WBGFN offers to their members. There, I also met Anne Juliette Ladegaard – the WBGFN Worldwide Program Coordinator, who was very supportive and friendly. She explained the work of the Worldwide network to me and it was during our meeting when I was offered to become the WBGFN Champion for Pakistan. I found this opportunity to be very exciting and thought this would be a great chance to explore and do something for others. My husband supported my decision to be the Champion and guided me on a few areas where I could start work.
When I returned to Pakistan, I met some World Bank staff spouses and informed them about WBGFN and the plan to establish the WBGFN Pakistan chapter. The spouses were interested in joining the network and agreed to support me in launching the WBGFN platform. We started with a welcoming coffee at my home where a few spouses joined, and we discussed several ideas on what could be organized in the network.
We communicate with the spouses via various channels, especially emails, phone conversations, and we also stay connected and get briefings through WhatsApp and Facebook groups. We often meet for a collective discussion, to share ideas, discuss new events and review the ongoing activities. The team is very motivated in contributing to the activities.
During one of our such meetings, we unanimously agreed to work on a cause supporting the education of children from lesser privileged families. Some members introduced me to two schools that work with under privileged children, who do not have access to quality education – Pehli Kiran and Baithak School. We organized a fund raising for this cause and donated the money raised to Baithak school on Pakistan's National day.
After the success of the school donation campaign, we then worked on a printer donation drive for low income schools. To help in our cause, our WBGFN Coordinator Catherine Mathieu, acquired and shipped some printers to Pakistan which were dispatched as donations to low income schools, supporting children's education program.
It has been an extremely satisfying and gratifying experience for us to be able to support these children.
In 2018, the Prime Minister announced that in order to mitigate the terrible effects of climate change, Pakistan would have to plant more than three billion trees by mid-2023. At this point, we rallied together and organized a Tree Plantation Activity with our WBGFN Pakistan members. Our aim was to plant more than 200 trees in one day, and together, our mission was accomplished!
In 2019 I moved to Washington, DC for a year where I participated in the Teen Summer Program and the Annual Dinner activities as a Volunteer. Over the past years I have volunteered in many programs, but these two changed my perception of WBGFN, and the experience was incredible to work with a team whose skills and talents are notable.
I have since relocated to Tanzania. Here in Dar Es Salam I met with the WBGFN champion Claire Dickson, who really helped us to settle down in a new country. I have found a new hobby for myself, kayaking, which I thoroughly enjoy and am really indulging in my new life here.
Thank you WBGFN for taking me under your wing since day one! It has motivated me to do the same for anyone else in future.
Sadaf Khalid
---