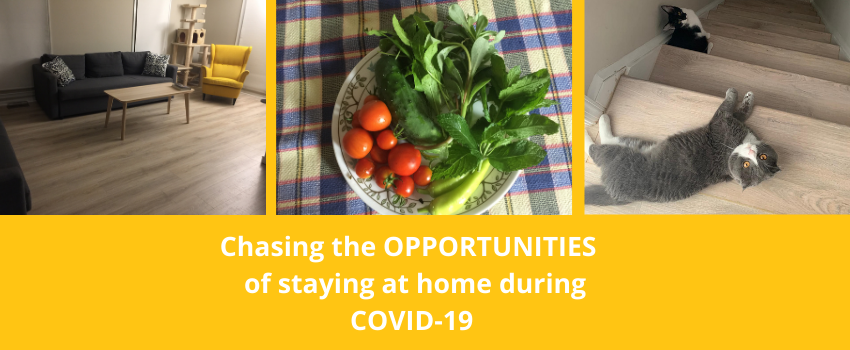 By Pelin Deniz Tekneci
We are all going through a very strange time due to the COVID 19 pandemic. I am sure that each of us will close this chapter of our lives with unique stories.
To me, the first couple of weeks of the lockdown felt very nice indeed. I didn't have to wake up at 6:30am, and no time was spent commuting. Instead, we were having three meals together as a family and enjoying walks around the neighborhood. I even had time to experiment with Turkish cuisine and try out new recipes. But then, with the increase in number of cases and death tolls, we as a family, became anxious and restricted our outdoor activities significantly.
The way of conducting business was suddenly different. I had no face-to face meetings, no printing machines, no physical folders to keep my documents and no catching-up with friends at the office. The workday didn't start at 8am, nor did it end at 6pm. Work-related requests came at any time, on any day. Suddenly, there was no difference between a weekday and the weekend. Domestic and professional work were entangled, and I started feeling fatigue and brain fog even though I didn't have a busy schedule. I was missing human contact.
I have always been a home-loving person. I like spending time at home doing light housework, enjoying a cup of coffee with a book, cooking, and watching movies. Meanwhile, my husband is an outdoors  person. By the end of the third week of the lock-down, he got restless and I lost my high-spirits. Just to keep ourselves busy and take advantage of working from home, we decided to lay hardwood floors in our home. We had to select the hardwood online without visiting the stores. My husband watched several you tube videos on how to use a miter saw, cut laminate, lay the underlayment, fix the subfloors, etc.
Then we found ourselves in a two-month period of chaos and disorder. The equipment and materials invaded our home. We had to empty one room and transfer everything to another. Since my husband can work only when he has time from office work, the renovation took very long. Our cat was so distressed that she started peeing everywhere! But in the end, we had very nice looking and easy to clean hardwood floors on all three floors, the furniture restored to its original space, and the cat started using her litter box. The end of the renovation was also a kind of mystical and symbolic awakening for us. We went through a chaotic phase to adapt to our new normal and now we were ready to benefit from working from home.
After having finished the hardwood floors, we started planting vegetables and herbs in our little garden. I need to tell you that we live in a town house, which is not the ideal place to start gardening. We used myriad of pots since we had very limited amount of land by the fence. Fortunately, our efforts provided us with something to eat and brag about to our neighbors. We managed to harvest lots of tomatoes, peppers and cucumbers; whereas we had no luck with zucchinis, potatoes and garlic.
I decided to eat healthier and walk regularly to shed some weight. With staying home, no friend visits or  dinners at restaurants, it was much easier to follow a diet. My diet was simple. I minimized the intake of sugar, gluten, and alcohol whilst increasing water, vegetable, yogurt and fruit consumption. I also avoided eating after 6pm and before 10am. Slowly and steadily I lost 12 pounds. My son, who was also overweight, joined me in this adventure and he lost 15 pounds in three months.
I always wanted to foster another cat and working from home provided the opportunity. I got a five-month old kitten from an animal shelter for three weeks, and our beloved Cat, the WBFN coordinator, decided to adopt this little love ball.
I have a son who is 17 years old and is a senior at high school. He realized that my husband and I are trying different activities to get rid of the feeling of isolation and lethargy. He showed no interest in joining us, which is very normal for an adolescent. Meanwhile, he enrolled in online courses from platforms such as "Coursera" and "Edx" and realized that he is more inclined to study finance. He started investing his savings in the stock market (under his father's account and mentoring of course) and he attained a very good return on his investments. He got his learner's permit and started driving lessons with his father. He studied for his SAT, prepared his college application essays, did volunteering services at a couple of non-profit organizations. In a nutshell, he found his own way to benefit from staying at home.
As I told you at the very beginning, our stories during the pandemic might differ a lot. My family and I were very lucky that we realized how to benefit from this period, and we were able to act accordingly. The only thing I can tell you is that this period may give you the opportunity of trying things that you have procrastinated over or couldn't spare time for before. Just think about what you want to do and identify the things that you can do considering your available resources and responsibilities and give them a try. At least you will break the monotonous cycle of staying home.
---