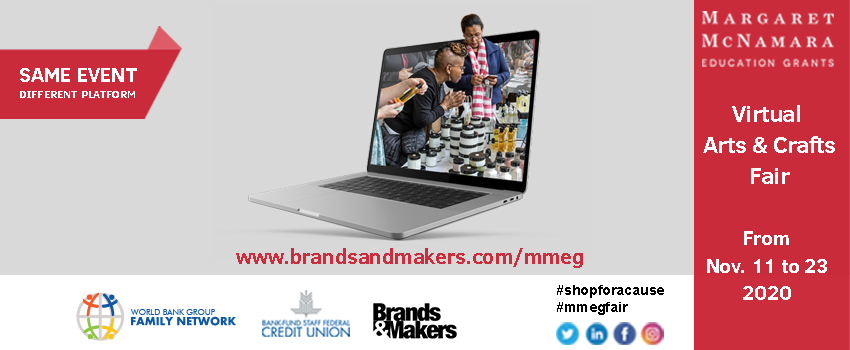 Starting on November 11, World Bank Group Family Network (WBGFN) members will once again have an opportunity to support the annual Arts & Crafts Fair which funds a large proportion of the education grants provided every year by
Margaret McNamara Education Grants
(MMEG) to women from developing countries, to ultimately improve the welfare of women and children.  This year however, WBGFN members (who make up most of the approximate 130 volunteers supporting the Fair!) won't be helping to set it up, work as Treasury runners and accounting staff for vendor tables, or sell gently-used 'treasures' and gourmet food at MMEG tables over three days. Instead, because of COVID-19, WBGFN members have worked with MMEG to organize what will be a virtual fair running for two weeks with many of the same vendors who usually participate in person.  
This necessary change is just another facet of the evolution of the Fair over decades and the crucial involvement of WBGFN to its success and indeed that of MMEG – a partnership that has lasted and thrived for nearly 40 years.  MMEG was founded in 1981 by members of a group of Bank staff spouses, originally called WIVES (and yes in those days, most spouses were wives!)  and later called the World Bank Volunteer Services (WBVS), and now WBGFN, organized to welcome new families to the Bank and help them settle in the Washington DC area.   
MMEG was established as a charity to honor the memory of one of the most prominent wives, Margaret McNamara, whose husband was the World Bank President, Robert McNamara from 1968 to 1981.  Margaret was known for her dedication to development and especially to the health and education of women and children; her legacy in MMEG has prevailed and flourished for nearly 40 years—resulting in the awarding of US$4 million in grants to 445 women!
Early on, with WBVS, MMEG tried many different types of special fundraisers to augment donations from individuals—sales of cookbooks and notecards, raffles, foreign coin collections and events like bridge parties and galas such as the 'Champagne Ball.'  In 1984, however, members decided to hold  a bazaar at a church in Virginia and "to invite Bank wives who were potters and silversmiths along with a few other craft persons to display and sell their wares."*  While the fair was successful, there was leftover merchandise which enterprising MMEG members brought to the Bank to sell – and by 1986 the Fair was firmly established as a regular event, comprising some 55 vendor tables in the very small space of the H Building auditorium.  Volunteers worked with vendors, prepared and served a light lunch, sold raffle tickets and homemade international foods.…"the space was crowded and festive, many languages were spoken, and many people were in national dress" and a record-breaking $21,000 was raised!*
Since then the Fair has continued to be MMEG's biggest fundraiser, an enormous success and an event relied upon by shoppers in the development community and the Washington DC area to find unusual gifts ahead of holiday shopping.  Its success every year is only made possible by the support of the WBGFN whose members pitch in over the culmination of months of planning in three crazy days of hard work, dedication, and fun.  
But, thanks to COVID-19, this year's fair will look a whole lot different!  It is moving to a virtual format featuring many of the vendors of prior years and expanding from 3 days to 2 weeks from November 11 to November 23.  
Please visit
https://brandsandmakers.com/mmeg
after November 11th and get a head start on your holiday shopping, at the same time,  supporting a good cause.  (Note: While shoppers from anywhere around the world will be welcomed, please note that shipping by vendors will be limited to the United States.)  And, if you need to find a home for gently used treasures gleaned from closets cleaned out during lockdown, MMEG will gladly accept them for a 'white elephant' yard sale to be hosted in the spring.  
Your participation will maintain a wonderful partnership that has benefited the education of extraordinary women for nearly 40 years. 
*The Story of the Margaret McNamara Memorial Fund – Harriet Baldwin
---