We are thrilled to be able to offer to you, after 2 years our In-Person Members' Corner.
 
We invite you to join us in our WBGFN office for an hour, on Thursdays from  10:30am till 11:30am for an informal social setting, to support you, our member. A team of eager and knowledgeable volunteers will be present during the hour to answer all your questions.
 
Please check the dates on the right in the calendar for scheduled days. We look forward to seeing you. 
---
We are located in the Main Complex of HQ - MC4-200, 4th floor suite 200. (Take the elevators NW 100,  look for the globe in the main lobby just past the information desk to the 4th fl)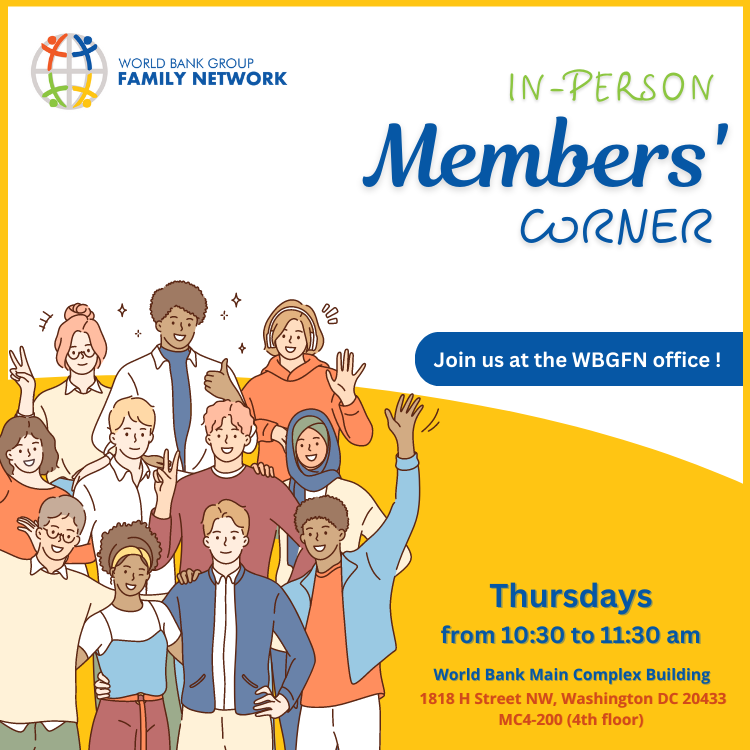 ---
In the meantime you can always reach out to us by email:  Familynetwork@worldbank.org for any questions you have.
---
---
WELCOME  •  SUPPORT  •  ADVOCATE