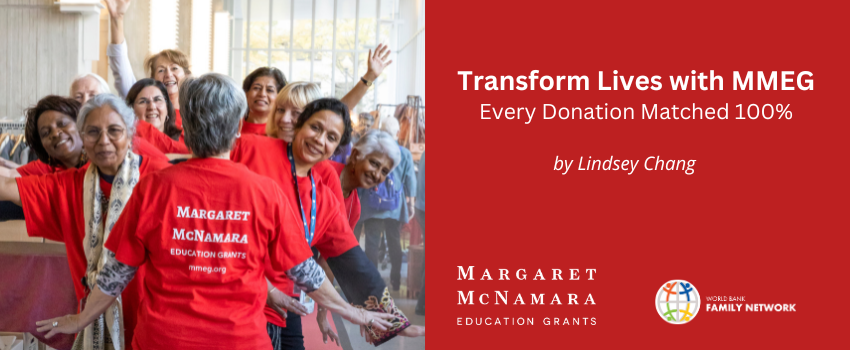 The transformative power of education stands as a pillar for fostering equality and inclusivity, especially for women in developing countries. Today, there is a unique opportunity for you and your family to play an integral part in this cause. 
Between November 1 and December 14, the Bank's workplace giving program, known as the Community Connections Campaign, or CCC, will double all donations by Bank staff who designate MMEG as their charity of choice. 
The CCC collaborates with the Margaret McNamara Education Grants (MMEG) to amplify its impact, with a promise of 100% matching donations by the World Bank. Yes, 100%! You read it right. When Bank staff donate to MMEG through CCC, it isn't merely a monetary gesture. It represents a bold step towards creating a brighter, more equal future. Learn how your Bank staff family member can
donate here.
Empowerment Through MMEG: A Legacy of Change
Founded in memory of Margaret Craig McNamara, a staunch advocate for education and literacy, MMEG has evolved into a symbol of hope for extraordinary women from developing countries. Its inception dates to the era when Margaret's spouse, Robert McNamara, served as the World Bank President. 
Margaret's passion for education, particularly for women, significantly influenced the Bank's work in these areas. This led to the establishment of the Margaret McNamara Education Grants (MMEG) in 1981, a testament to her dedication. Earlier, in 1961, Margaret had laid the groundwork for a globally impactful initiative by founding the "Reading Is Fundamental" program in the United States. Her commitment to education is evident in these enduring contributions.
Over the decades, MMEG's relentless efforts have improved countless lives. The results speak for themselves: over 500 inspiring women from 79 countries have been granted support, empowering them to lead changes for underserved women and children. These grantees have spread their influence across various fields – be it engineering, law, health, or education – becoming powerful symbols of change and empowerment.
Stories of change echo in the tales of MMEG alumnae. Patience Afulani from Ghana, for instance, works towards bridging health disparities in reproductive and childcare, with projects spanning from Kenya to California. Rubina Feroze Bhatti from Pakistan is an active advocate for children's rights, serving in a National Commission dedicated to their protection. From Uganda, playwright Judith Adong stands up against prejudices, challenging her country's Anti-Homosexuality Act through her artistic creations. Such stories epitomize the pivotal role of MMEG in empowering women to drive positive changes post their academic pursuits.
MMEG's journey would be incomplete without the World Bank Family Network (WBFN). The continuous support, belief, and advocacy from WBFN have been indispensable, serving as the backbone that propels MMEG's vision. Through collective efforts, countless dreams have transformed into reality.
To raise money for its grants, MMEG organized the International Arts & Crafts Market. This annual event, held in early November at the World Bank Main Complex in Washington DC, is a rich tapestry of cultural heritage. Artisans from around the world showcase their skills, with the proceeds directly contributing to grants that back the education of women from developing nations.
Imperative of Supporting Women's Education
The philosophy of championing women's education is simple yet profound: when you educate a woman, you ignite a chain reaction of empowerment that echoes through generations. MMEG isn't just a charitable endeavor, it's an endorsement of a belief that education forms the bedrock of sustainable growth. Every contribution reaffirms a vision where education isn't a luxury but a fundamental right.
By supporting MMEG, we're weaving a sustainable legacy of empowerment and building a framework that allows these exceptional women in developing countries to apply for educational grants. This gives them the opportunity to pursue their academic dreams and make meaningful societal contributions.
As members of the World Bank Family Network, our support for MMEG through the CCC solidifies our shared vision of a more educated and equal world. Let's honor Margaret McNamara's legacy and actively participate in this endeavor towards advancing women's education.