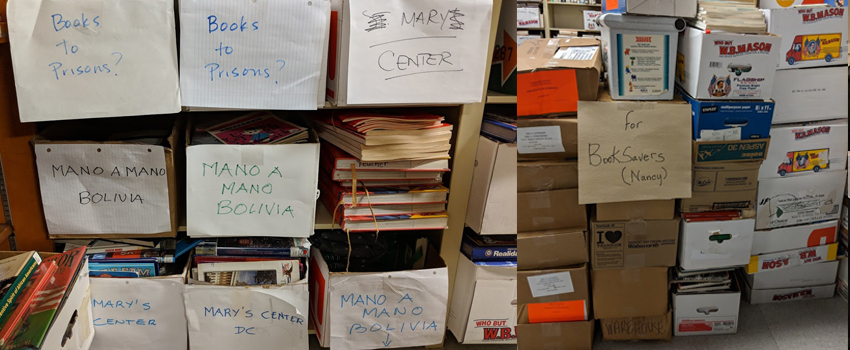 Last year, the WBFN Book Project sent over 90,000 books overseas. These books were donated by metropolitan public and private schools as well as individuals. Our volunteers sorted and selected textbooks, library books and workbooks for shipments that went to schools in Cameroon, Sierra Leone and Nigeria. For the books that were not suitable, for a variety of reasons, every effort is made to find another use. In keeping with our policy of reducing the number of books that go into the paper-recycling bins, these books were offered for donations at our Book Fair, or we find NGOs like Mano a Mano, Fleur de Vie, and ESPWA, which accept books for their projects overseas.
Thanks to our volunteer, Nancy Pinto, a WB retiree, who initiated a search for potential recipients of these discarded books, we are now in the process of sending books to two more NGOs:
— For the last 20 years Book Savers of Maryland has been a non-profit bookstore raising funds for Mennonite Central Committee (MCC). MCC is a relief and development agency working in the US and around the world. They support MCC by recycling and reselling unwanted books—books that could have easily ended up in a landfill. They sell their books in their store and online and recycle the paper from the books that are not resold. Nancy drops off boxes of books at their Hagerstown (Maryland) location periodically.
— Our second addition is DC Books to Prisons, which develops and supports prison libraries, and has provided free books to individual prisoners since 1999. Work is done solely by concerned volunteers on donated time and resources. In 2009 the program expanded to Alabama. Yearly between the two sites, DC and Alabama send more than 5,000 packages of books to meet requests by inmates in 600 federal and state prisons. More recently they have been sending books in Spanish to immigrant children in detention centers along the USA border.
At the Book Project twenty-five volunteers work one to three days a week. The scale of the operation requires a warehouse in Sterling, VA (a suburb of Washington DC). Packing the books is becoming increasingly complex. For example, the wooden pallets that go into the shipping containers must be heat-treated because of potential vermin, and these pallets are not readily available. A shipment of 30,000 books to Nigeria has been detained at the Lagos port since June due to customs issues. Volunteers identify sources of book donations in the metropolitan area, others find and vet recipients overseas. Some will work on shipping logistics and relationships with vital partners, such as the WBG. Yet others sort, stamp and pack books for donations. There is no lack of activity at the Book Project!
If you would like to become a volunteer, or you have books to donate, please contact us at bookprojectwbfn@worldbank.org.