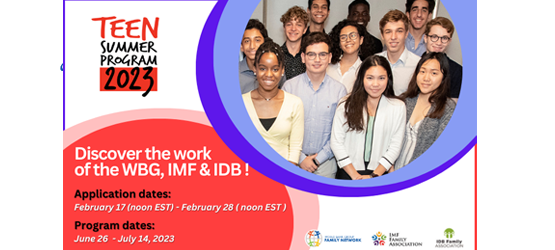 Teen Summer Program - 2023
The Teen Summer Program (TSP) is a much sought-after three-week program held every summer for teens (16-18 years old) whose parents work at the WBG, IMF or IADB. This unique program features expert, professional speakers from the three organizations and offers teenagers insights into the fields their parents work in. The three main objectives of the Teen Summer program are:
Foster the awareness of being a Global Citizen.
Better knowledge and understanding of the three multilateral organizations.
Personal development: cross-cultural skills, communication, collaboration and self-awareness.
Seminars, mock parliaments and town halls are some ways in which teens are taken down educational, creative and self-developmental avenues which they can explore, experience and benefit from. Debating current global issues sets them on the path to becoming global citizens themselves!
Today's 11th and 12th graders are living in a world of seismic societal change. People are living longer, healthier lives, AI is changing the way we work, social security systems are now designed to support a long life span.  What is the potential impact of the 100-year life on individuals, organizations, and society as a whole, and is it likely to be positive and sustainable? Teens will be exposed to the 100-Year Life Lab during the program. The 100 Year Life Lab for teens sounds bizarre, but they will be facing a completely different adulthood. It will impact careers, financial planning and overall wellbeing for the longer life journey. Learnings from the lab will help them make more informed decisions particularly about their careers.
The application should only be filled out by your son or daughter (the participant). 
TSP 2023 program dates: June 26 to July 14, 2023 (Monday through Friday) 9:00am to 3:00pm 
Applications Open: Friday, February 17th at 12 noon EST
Applications Close: Tuesday, February 28th at 12 noon EST (There will be no extensions or exceptions)
To Apply:  Registration has closed
​Applicants must be 16, 17 or 18 years old by July 1, 2023.
---
For Frequently Asked Questions (FAQ's) about the program, please refer to the pdf below or email your queries to:
WBGFN: Teensummerprogram2023@gmail.com
IMFFA:   IMFFA@imf.org
IADBFA: FAMILYA@iadb.org
---