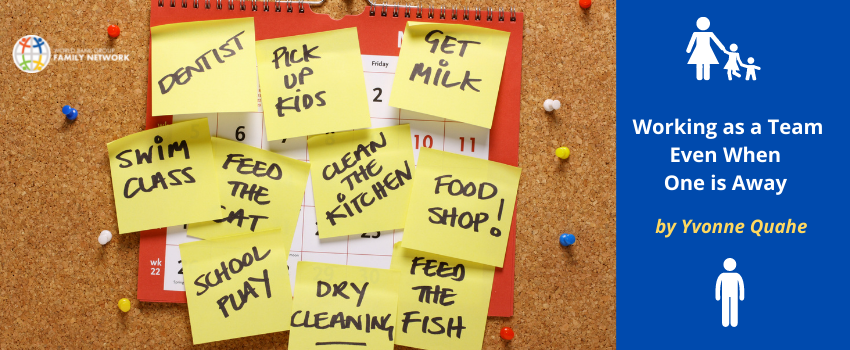 Working as a Team Even When One is Away -  by Yvonne Quahe
No decision to move away from family, friends, career is ever taken lightly. However, the reality of our choices often feels like it's more than we bargained for. The willingness to undertake frequent business travel is part and parcel of being a WBG staff member. You and your spouse must have discussed this before accepting a position at WBG. But did you expect your spouse to be on a flight halfway round the world 14 days after you arrived? Soon you realize that you are solo parenting your children or as in the words of Rhoda Bangerter, Holding the Fort.
Solo parenting, according to Rhoda Bangerter, happens when a person is a parent and married or in a committed relationship, and the other person is away for work (for long periods of time frequently) or living in another country for some reason, i.e., non-family postings. The pandemic has also thrust some into living in split locations. Solo parenting is no stranger to our community.
The Holding the Fort Survey showed that the top five challenges for a couple's relationship when one partner is away a lot for work travel or living in another country for extended periods of time are:
Staying friends
Emotional intimacy 
Reconnecting after a trip 
Parenting children 
 Agreeing on finances
Yes, it is very easy for the traveling parent to leave all the parenting to what Rhoda Bangerter refers to as "the constant parent". Inevitably the day-to-day parenting will fall on the shoulders of the constant parent, but the whole of parenting shouldn't. Therefore, as a couple you have to be very intentional about parenting together. Dawn Purver, a psychotherapist with firsthand experience of solo parenting says "the responsibility lies with the traveling parent to be involved in the children's lives and know what is going on". Work together as a couple to make it possible as sometimes it isn't easy juggling different time zones, heavy workloads and poor connectivity.   
Here are some tips suggested by Rhoda Bangerter in her book to help the traveling spouse stay involved in the everyday lives of the children.
 Agree that long periods of business travel will not stop you from parenting together
 Zoom-in during dinner time so you can still eat together as a family 
 Have one-on-one calls with the children when traveling 
 Show them on the phone where you are and what you are doing
 Help with homework 
Holding the Fort also talks about the importance of staying friends and maintaining emotional intimacy with your spouse whilst he/she is away. Beatrice de Carpentier, another seasoned solo parent, emphasizes the importance of "telling each other about our everyday lives because it means sharing our respective realities and therefore builds up our life together." One spouse even goes away for a few days when her spouse returns so that he could get a better sense of her reality of childcare, managing the home etc. Finding something fun to do helps you create a joint life as a couple in spite of the distance.
Here are some ideas:
 Use Q cards  as conversation starters. There are three categories of questions to choose from. Reflect questions are conversation starters, Reveal involves giving deeper replies, and Relate elicits answers specific to you as a couple.
Play an online game together
Watch a movie at the same time
Take a walk outside while video calling each other   
The book Holding the Fort is well worth reading as it touches on so many relevant issues that are part and parcel of life for WBG families. We look forward to having Rhoda Bangerter as a guest speaker in the Fall to discuss solo parenting with a special focus on preparing for non-family postings in FCV locations. Watch this space.