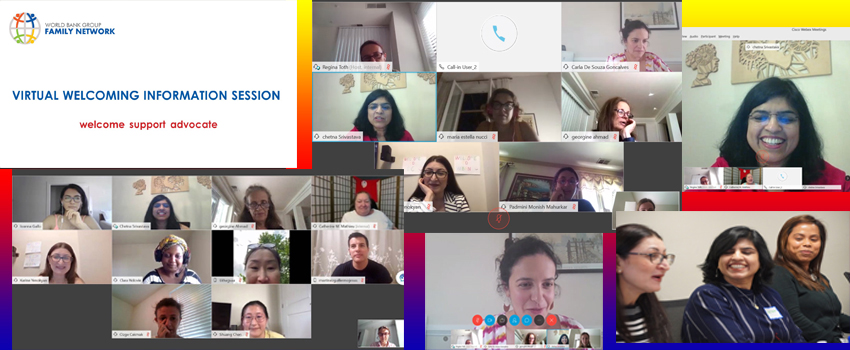 The Welcoming team of WBFN is committed to help and give a warm welcome to the WBG families relocating to DC.
Before the pandemic, we conducted welcoming information sessions (WIS) in our office conference room. This generally used to be our first in-person interaction with members. We shared a presentation to help them with a systematic approach to the documentation and settling down in the DMV area. These sessions were instrumental in establishing a rapport with the members. 
Due to the unprecedented emergency situation, offices were shut down in March 2020. However, we understand that the families who arrived in DC recently, are still in the settling down phase and need similar or even increased support. We adapted to the situation quickly and initiated our virtual welcoming information session through WebEx starting from April. We moved our session from morning to late-afternoon to make it more easily accessible. We also reduced the duration from 2.5 hours to 1-hour, making the session more interactive while also customizing and focusing it on key information they need under the present situation. 
The improvised virtual WIS is turning out to be an impactful means to connect with members. Although we miss meeting the members in-person, shaking hands with them, and sharing cuppa-coffee together; when we see a smile on their faces, even in virtual meetings and the connection they develop with WBFN we feel that we are continuing our mission despite the challenges. 
We are happy to share the positive feedback received from the participants of virtual WIS as below:
Steven Patrick Braun from Peru, April 2020  
''Attending to the WIS is a must when you arrive to the US. The warm group of people who runs it will help you to know and understand the different steps you have to follow in order to establish yourself complying with laws and regulations, covering aspects as Social Security, Insurances, Driver License, Work Permits and more. Not only that, they can help you with almost all different aspects of this new life, because they have been there. Additionally, they present the newcomers all the alternatives the WBFN offer to its members. It is a trustworthy and reliable group of people who just want to help, and they definitely do so".
John Amani Maberi from Uganda,  May 2020
''My online experience of the virtual sessions was quite good and a very close second to actually being present in the WB premises. Communication was well, clear, and precise to my liking and understanding of whatever content was being presented that day.''
Andrea Pederzoli from Italy,  July 2020
"We had our Virtual Welcome session yesterday, has been a great experience and we were very positively impressed with the extremely professional and comprehensive overview that was provided to us"
"It was great to meet virtually all the WBFN personnel and they made us feel as part of the WBG family already"
"Really appreciated meeting so many of you virtually - it really demonstrated the commitment and the importance WBFN gives to helping new joiner families settling in"
"The presentation and materials provided were very clear, detailed and extremely helpful to help us navigate the relocation and settling in DC through these strange times"