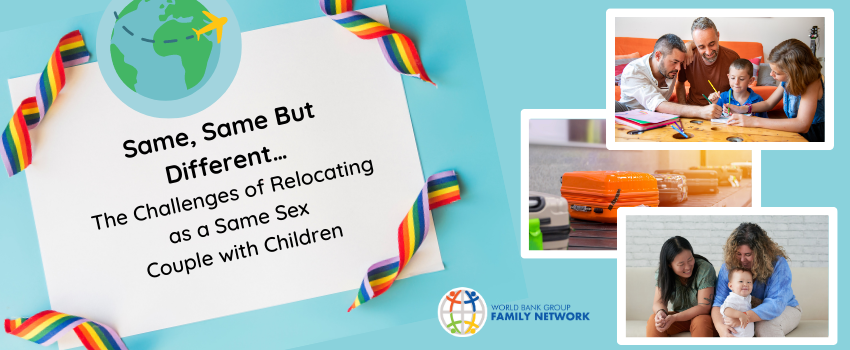 I am an Australian who has lived in my home country for only one year out of the last 20 years. I didn't plan this lifestyle!!!  – I saw myself as being settled in Australia, continuing my work as a mental health professional as the Manger of Mental Health Service in Melbourne. But an  opportunity arose for my partner of 30 years, and now husband, since 2012. Previously, we had considered the USA, but in the 90's, work and visa arrangements for me would have been virtually impossible, and I didn't want to give up my career in Mental Health at that stage. However, in 1998, an inspiring and important opportunity was presented to my husband - to collaborate with several public health organizations in Thailand in the critical area of HIV/AIDS research. At this time, for me, a break seemed to make sense with my career goals and graduate study plans. The rest is history – two children, four relocations, and now after 20 years, we are back in Bangkok, Thailand. Our son about to start University in Australia and our daughter turning 15 years old in Year 10 at an international school in Bangkok --- in a world that has been ravaged by a global pandemic. It's been an incredible journey, but not always smooth sailing - frustrations, isolation, depression, surrendering goals and compromises. But the other extreme is wonderful new experiences and adventures , close friendships and welcoming communities, becoming a painter and the continued need to reinvent myself.
 
Accompanying your partner/spouse overseas presents unexpected challenges and partners/spouses in this position often experience the loss of one's sense of worth, and professional identity because you virtually become an accessory. This can be further magnified if the relationship is considered 'unconventional'. However, I feel that as a same-sex spouse with children these issues can present added challenges, equally as difficult, especially relating to the acceptance and acknowledgment of my family. 
 
LGBTQ accompanying spouses experience all of the same struggles that all accompanying spouses experience, such as career sacrifice, loss of identity, loss of community and fragmenting of family ties. However, when you are relocating as an LGBTQ family internationally with children, the challenges and anxieties can be amplified. Changing legal and social acceptance in a different geographical locations can swing the experiential pendulum from positive to negative. Wondering if the ability to find a rewarding career and a close-knit community is possible.
 
My journey began with our first relocation to Bangkok 20 years ago and the loss of;  professional status, identity, friendships whilst being under a vague visa that stated I was "invaluable to my partner's research". The next phase of our journey after Thailand was moving to Cambodia with our 14-month-old son  and being an "unconventional" parent whilst establishing myself as a new family within the expat community. This experience was very positive but involved the process of 'coming out' to other parents, the school, and the expat community. This can often be very stressful as you try to establish yourself within a new environment. I was also able to obtain employment with an international organization during this time in a mental health role. However, having my family recognized within this organization present a protracted and unnecessary challenge with having to go to unreasonable lengths to provide a parental relationship. Despite having extensive legal documentation. To me this demonstrated a need for increased awareness within their international human relations section.
 
After Cambodia, another child joined our family, a daughter, and we moved to Washington DC for the next 12 years. Washington DC was a roller coaster ride -I was only issued a tourist visa  for the first 5 years due to my relationship being unrecognized federally which required renewal visa every 6 months. My legal standing was so fragile that I did not even have the authority to register my children in school. The WBG was supportive in the benefits they provided but they were unable to intervene in issues relating to my visa. My interactions with HR often lacked empathy, understanding an awareness of the issues facing my family. I was not allowed to work and unable to obtain a work permit although other married accompanying spouses where able to access.
 
At this time, the WBGFN was a beacon of light that provided a welcoming, non judgemental environment which provided opportunities; to share experiences with other spouses, learn new skills, increase awareness of the living in the USA, and empathize with the accompanying spouse experience. Integrating into the community with 2 small children often required my to 'come out' again and again; deal with constant and sometimes unwelcome prying into the structure of my family and to ensure I could protect my children from and hostility. However, Washington – proved to be a wonderful experience because of the choices we made – a welcoming Public Charter School, a close knit and supportive neighborhood, the development of deep and enduring friendships, a rich school community in which to raise my children. I was eventually able to obtain a work visa, and interests. Our most recent experience is a return to Bangkok, 20 years later as a family. After 2 years, the challenges remain similar, lack of legal status and some insensitivity within the HR section of the organization. However, leadership within the WBG in Bangkok is extremely supportive and positive. As I move through mid-life I reflect on the experience I have had and the personal growth I have experienced. The experience of relocation as a same sex family has added unexpected challenges – but above all- it's the people you meet that have the greatest impact on the rewards you get from your experiences.
 
Diversity to me is about highlighting the differences between individuals and groups of people- whether it be gender, race, sexual orientation or religion, or any other parameters used in our world. It's about valuing and appreciating these differences. Whereas inclusion is the natural extension of the definition of diversity. It's taking action to create environments where people feel respected and valued. We achieve this through embracing difference, listening carefully to everyone's experience, not judging, and seeking to understand experiences from an alternate perspective.
 
The life of a globally mobile family is like an endless roller coaster – fear, excitement, thrills, sharp turns, ups and downs, and shared experiences that make you cling to one another – but you are never quite sure if you enjoyed it completely! Each time you get on the roller coaster you are terrified – but at the end of the ride – you are braver than you thought you were and happy that you had that experience as a family. We all experience the challenges of our globally mobile families differently and adapt in different ways. My experience is no more or less difficult than other families – it's just Same, Same but Different!
---