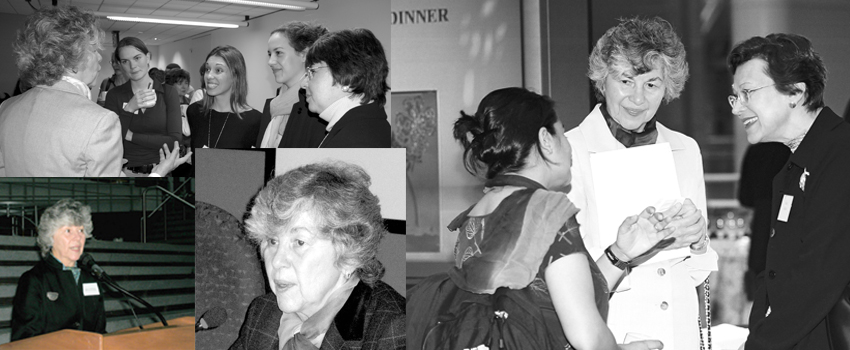 in memoriam: Elaine Wolfensohn
Elaine Wolfensohn was the Honorary President of the World Bank Family Network (WBFN), previously known as the World Bank Volunteer Services (WBVS), during James Wolfensohn's tenure as the World Bank Group's President from June 1995 to June 2005. 
Elaine took her role as Honorary President very seriously. She became a firm believer in WBFN's advocacy work on behalf of spouses and families of World Bank staff. She immersed herself in her new role, and dedicated time and guidance to their concerns and needs. She was instrumental in bringing to light, and to the President's attention, difficult situations including domestic abuse of spouses. She then worked tirelessly to help WBFN get the resources and help to educate WBG spouses about their rights, and to influence policy changes to protect those [spouse] rights far into the future.   She was deeply interested in securing solutions for the many issues that challenged the spouses and families of the World Bank.
She remained engaged in her role as mentor and counselor to WBFN leaders, supporting their work for spouses and championing their two charitable organizations, The Margaret McNamara Memorial Fund (now Margaret McNamara Educational Grant) and The Book Project. She participated in Executive Committee meetings and MMMF/MMEG Board meetings and fundraisers. 
The worldwide WBVS/WBFN community has lost a very strong supporter. 
Our deepest sympathy and condolences to her family.
On behalf of The World Bank Family Network
WBFN Presidents during Elaine Wolfensohn's Tenure:
Katy Doyen 1994 - 1996
Hada Zaidan 1996 - 1999
Barry McIsaac 1999 - 2001
Elizabeth Medina Tata 2001 - 2002
Chantale Holzmann 2002 - 2003
Lois Khairallah 2003 - 2004
Rosa Lia Troch 2004 - 2005
Joanne Garrity Coordinator
Louise Shimizu Coordinator (Posthumously) 
Catherine Mathieu Coordinator