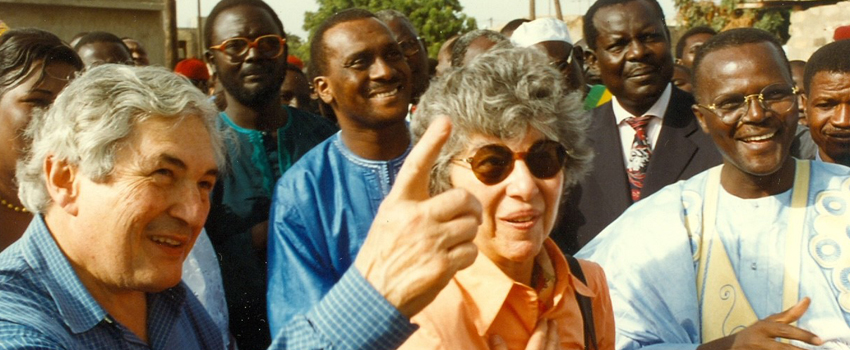 Quality in the Classroom – a Tribute to Elaine Wolfensohn
As we near the end of 2020 and mourn the loss of former World Bank Group President James D. Wolfensohn, we also pause to remember another major figure we lost in the World Bank family this year, Elaine Wolfensohn. Andrew Kircher, former speechwriter and assistant to Jim Wolfensohn and editor of Voice for the World's Poor, spoke to several current and former Bank staff to reflect on Elaine Wolfensohn's legacy at the World Bank. 
On a blistering hot and humid day in June 1995, Jim and Elaine Wolfensohn rumbled through the countryside of Mali to a visit a small school in a roadside village, kicking up dust and attracting attention from villagers along the way.  
Only a few weeks before, Jim Wolfensohn had assumed the presidency of the World Bank Group, a position he would hold for the next 10 years. Eager to get out of Washington and see the Bank's work first-hand, Jim and wife Elaine chose Mali for his inaugural country engagement, the first of some 120 countries he would visit during his two terms as president.  The West African country of 10 million people may have appeared as an unlikely choice, given its small size and rank as one of the poorest in sub-Saharan Africa, but a new government had recently swept into power on a vow to invest in the country's people. 
In the car with the Wolfensohns were Jean-Louis Sarbib, the Country Director for West Africa, and Linda McGuinnis, the Bank's resident representative. Nerves were high given that this was the first visit by the new president and his wife, and nobody was sure what to expect. 
When they reached the roadside village and school, Jim sat down under a tree to discuss issues with the old village chief while Elaine engaged with a group of women. After hearing about the challenges the villagers faced, Jim and Elaine toured the school, which exemplified the government's plans to invest in human development and raise a new generation to build Mali's future. At one point, Elaine spotted a picture of a red fire hydrant and fire truck on the blackboard, and approached Sarbib. How, she asked in a gracious but firm way, did a Western-style fire hydrant and fire truck possibly fit in the practical curriculum of a West African rural school that had no running water or electricity? 
"What struck me from the beginning was that Elaine was focused on what happens in the classroom and the quality of learning the children were getting," says Sarbib, who would go on to become Vice President for Africa, MNA, and Human Development. "Up until then, the Bank was more focused on how many schools were built, how many classrooms were built, and how many textbooks were printed. There was less attention paid to the quality of education." 
As for McGuinnis, the nerves melted away as she engaged with Elaine who, like many other World Bank staff would discover, exuded warmth and humility. 
"Elaine made it so easy," she says. "She wanted to meet women and educators and health care workers everywhere we went. She knew what a caring economy meant long before that became a COVID tagline. She was willing to get her feet dirty and to show genuine heartfelt appreciation when a village named their one room mud-walled health care 'center' after her. She listened with open heart and deep intelligence, which enabled everyone she encountered to meet her there at the intersection of heart and intellect."
The Mali visit marked the start of a new phase in Elaine's life where she both supported her husband in his role as president but also made her own mark on the Bank's work in advocating for quality in education. A native of New York and a former teacher, Elaine Wolfensohn graduated from Wellesley College, obtained her MA in French Literature from Columbia, and her M.Ed. in counseling psychology from Teachers College. Over the next decade at the Bank, she would put that knowledge into practice, nurturing and supporting a wide range of staffers who steadily moved the Bank toward a more holistic approach to development.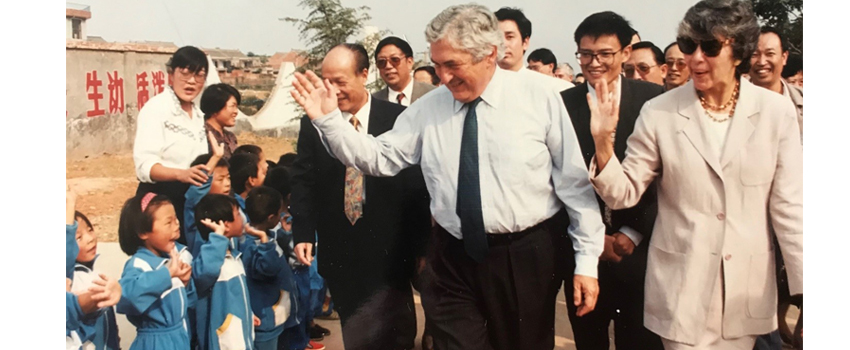 Barbara Bruns, a former lead education economist at the World Bank and now adjunct professor at Georgetown University's School of Foreign Service, said Elaine played the role of the first "first lady for the world" during her husband's presidency at the Bank. 
"As an educator herself, Elaine was a valuable source of insight into the education systems of the countries she visited," Bruns says. "But even more, she was passionate about the World Bank 'getting it right' in education and accelerating progress on education for all, especially girls. She was also ahead of the curve. At a time when the global development goals were focused on getting all kids into school, she was focused on the need to ensure that children were learning."
Those who worked closely with the Wolfensohns can vividly recall how formidable a team the couple could be in their determination to make a mark in the development arena. Jim Wolfensohn wrote in his autobiography, "A Global Life," that Elaine offered him substantive help during his tenure. 
"Even without an official title, she was my adviser on human development, and her input was invaluable as I tried to understand the Bank's challenges," he wrote. "We hoped to see for ourselves what worked and what did not. When the itinerary said turn right, I warned the staff that occasionally we were going to turn left. We wanted to learn from all levels of our local staff, and we wanted to engage directly with those we served."  
The Jim/Elaine partnership continued both during and after his presidency. Just last year, Jim told a group at the Center for Global Development that Elaine was his "key partner" in tackling the challenges of development.
Annette Dixon, former Vice President of Human Development and South Asia and now Human Resources at the Bank, said Elaine clearly played a very effective role in the Wolfensohn duo. "Elaine's support to Jim was critical in his success, not only through her emotional support to him, but also through her own networking efforts," Dixon says. "Elaine was passionate about Human Development, mostly education, and particularly early childhood education."  
Today, the combination of Jim's focus on human development and Elaine's advocacy on early childhood education can clearly be felt in the Bank's work. "Recent news coverage of Jim Wolfenson's legacy has emphasized his efforts to make the Bank more open, more client oriented, and more focused on reducing poverty and fighting corruption," said Mamta Murthi, current HD Vice President. "Less has been said about him as a champion for human development, both affordable healthcare and high quality education, especially for girls. In parallel, Elaine played an important role in emphasizing the importance of these issues for the overall mission of the Bank."
When Elaine died this summer, the tributes poured in and praised her 40 years of work in improving education in countries supported by the World Bank, creating teen tutoring programs in inner city schools in the US, and training adult volunteers to tutor high school students.  After Jim ended his two terms as president, the couple did not slow down and went on to found the Wolfensohn Center for Development at the Brookings Institution, including an initiative on early childhood development. 
At the Center for Global Development, current and former heads Masood Ahmed and Nancy Birdsall described Elaine as a "force for development" and said she was ahead of her time in insisting on attention to gender and to early child development, health, and education during and after her husband's presidency at the World Bank. In its obituary on Elaine, the Washington Post called her an "advocate for children, gender equity," noting that she consulted with World Bank officials on how to "help impoverished communities by replicating educational programs that showed promising results in other countries."  The National Gallery of Australia, which the Wolfensohns supported as part of their many philanthropic efforts, described Elaine as "a passionate and committed advocate for children and education and understood the power of the arts to enhance learning."  
Elizabeth King, the Bank's former Education Director, first met Elaine at a gender conference in Cairo which Elaine co-sponsored with the country's First Lady, and stayed in touch with her over the years, occasionally meeting for lunch or tea. "Mainly, Elaine asked me what I thought about the education and gender work at the Bank," Beth says. "She didn't express any strong views about the directions of that work, one way or another, just wanted to know what I thought. She was so supportive of women managers at the Bank." 
This past spring, King visited the Wolfensohns in New York just a few months before her death in August of this year. Elaine was proud of what was accomplished at the World Bank in the "Wolfensohn years" and the role she had played. Both she and Jim were happy that the Bank's atrium had been renamed the "Wolfensohn Atrium." 
Later in the summer, Elaine wrote to Beth from the Wolfensohns' home in Jackson Hole, Wyoming, noting that it was nice to go outside without a mask, and that the strawberries were coming out soon, and the raspberries were in flower. But true to form, she could not pass up the chance to finish off the letter with a reference to her passion. "I still believe," Elaine said, "that early child development and quality education will diminish the gulf between rich and poor, but I don't hear enough voices talking about this. Stay well and stay in touch."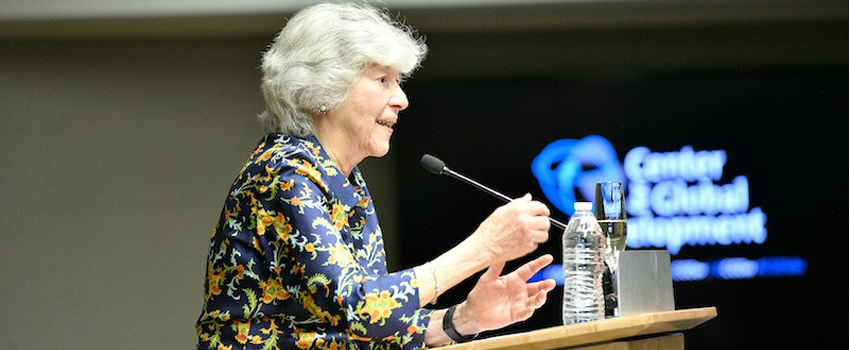 Elaine Wolfensohn speaking at the Center for Global Development in 2019.
It is impossible for one tribute to capture all the ways that Elaine Wolfensohn influenced the work of the World Bank. If you have an anecdote or a favorite memory, please click here and share it the comments section at the bottom of this page. (WBG Intranet), or if you are a WBFN Member, please share your thoughts below in WBFN comments section (you must be logged in do do so)
---
---
WBFN in memoriam: Elaine Wolfensohn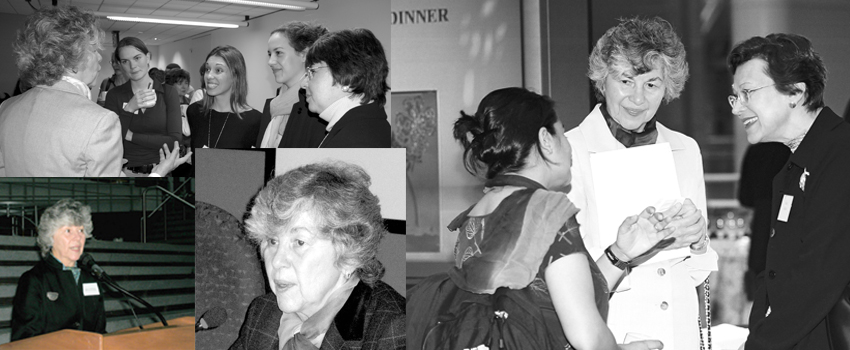 Elaine Wolfensohn was the Honorary President of the World Bank Family Network (WBFN), previously known as the World Bank Volunteer Services (WBVS), during James Wolfensohn's tenure as the World Bank Group's President from June 1995 to June 2005. 
Elaine took her role as Honorary President very seriously. She became a firm believer in WBFN's advocacy work on behalf of spouses and families of World Bank staff. She immersed herself in her new role, and dedicated time and guidance to their concerns and needs. She was instrumental in bringing to light, and to the President's attention, difficult situations including domestic abuse of spouses. She then worked tirelessly to help WBFN get the resources and help to educate WBG spouses about their rights, and to influence policy changes to protect those [spouse] rights far into the future.   She was deeply interested in securing solutions for the many issues that challenged the spouses and families of the World Bank.
She remained engaged in her role as mentor and counselor to WBFN leaders, supporting their work for spouses and championing their two charitable organizations, The Margaret McNamara Memorial Fund (now Margaret McNamara Educational Grant) and The Book Project. She participated in Executive Committee meetings and MMMF/MMEG Board meetings and fundraisers. 
The worldwide WBVS/WBFN community has lost a very strong supporter. 
Our deepest sympathy and condolences to her family.
On behalf of The World Bank Family Network
WBFN Presidents during Elaine Wolfensohn's Tenure:
Katy Doyen 1994 - 1996
Hada Zaidan 1996 - 1999
Barry McIsaac 1999 - 2001
Elizabeth Medina Tata 2001 - 2002
Chantale Holzmann 2002 - 2003
Lois Khairallah 2003 - 2004
Rosa Lia Troch 2004 - 2005
Joanne Garrity Coordinator
Louise Shimizu Coordinator (Posthumously) 
Catherine Mathieu Coordinator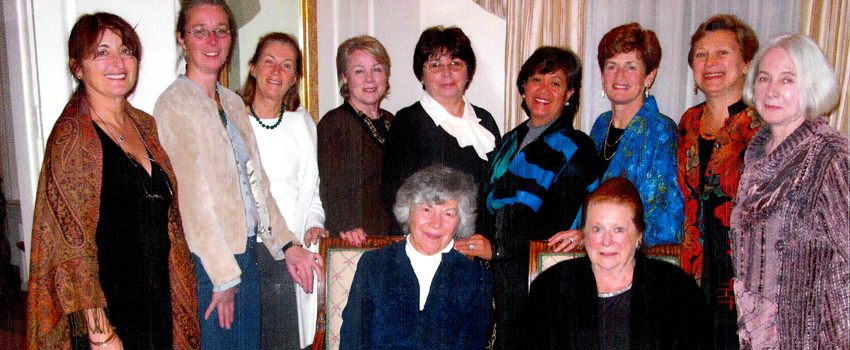 ---