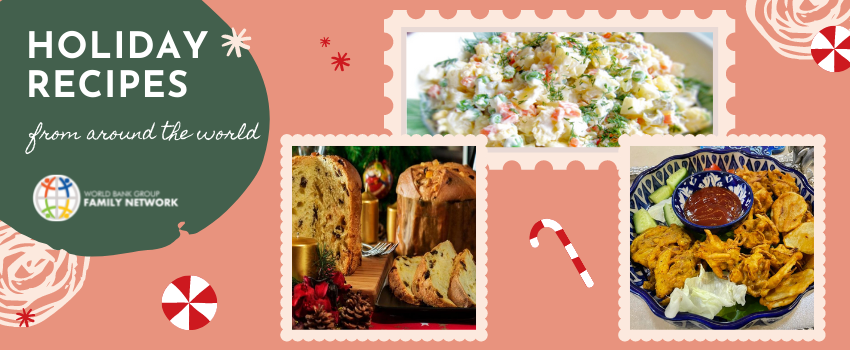 Holiday festivities bring back memories of family, traditions, cultures, and food. Most of us look forward to these days and plan ahead, whether it's the special clothes, decorations, food or family get-togethers. Holiday festivities give us a sense of belonging, precious moments to share with family and inject positive energy into our lives. Not to forget, we all have had those dreaded moments of burnt dessert, spills on new clothes and receiving gifts we had not hoped for. Yet, these bittersweet memories make us smile whenever we reminisce about them. No matter where we live or where we are from, we all enjoy holiday festivities in our own way and such events bond us as global citizens. At the same time, these are deeply personal moments in our lives related to people we love and respect.
Holiday events are planned with great enthusiasm and people enjoy traditional food based on family recipes handed down generations. Here are some exciting holiday festivities and recipes shared by the WBGFN Creative Kitchen members.
Olivier Salad (Classic Russian Salad) by Mila Casey
Oivier salad, also known as Russian Salad, was originally invented by Lucien Olivier for the Hermitage restaurant in Moscow in the 1860's; it was then adapted by Ivan Ivanov, who later sold the recipe for publication. Over the years, it gained popularity not only in Russia, but throughout the rest of the Soviet Union and Europe. It is one of the traditional dishes at the New Year's Celebration. Oivier salad became a part of any holiday feast, especially New Year and Christmas celebrations. I modified the recipe and made it plant-based, which is much healthier. See the substitutes in brackets. Click here for a PDF of the Recipe
Ramazan Festival and Pakora recipe by Bushra Abbas
Pakistan is a country with an array of culture, seasons, and food; with spicy biryani from the south to the scrumptious mamtos in the north. There are many cultural and religious festivals over the year, but the Holy month of Ramazan is the most awe-inspiring festival month. In Ramazan, Muslims are prohibited from eating or drinking from dawn to sunset, commonly known as a roza (fast). Roza is a test of human endurance where one can stay in good spirt to help the poor, offer prayers, and stay kind during the state of hunger and thirst. At sunset, Pakistani streets and markets get flooded with the aroma of samosas, pakoras, jalabees, fiery grills with barbecue and so much food that it is easy to say that no one is left hungry.
The day starts with the early morning meal known as 'Sehri' where people finish all eating and drinking before the morning prayers. The festive feel is vibrantly observed at the time of Iftar, which starts with prayers followed by breaking-the-fast with a date and some drinks and food.
To quench the day long thirst, we indulge in yogurt based drinks like smoothies locally known as lassi with seasonal fruits and juices. Most traditional snacks are pakoras and samosas (with potatoes, vegetables, chicken or minced meat).  My favorite food item during Ramzan is Jalebi, made by deep frying maida flour dipped in sugar syrup. Some common items on the menu are fruit salad, commonly known as 'Fruit Chaat', chick-peas salad and 'dahi bhalay'.
The month-long fasting is concluded upon sighting of the moon for the month of Shawwal when the Eid-ul-Fitr is celebrated and observed for a minimum period of 3 days by visiting family and friends. Click here for a PDF of the Recipe
Christmas in Argentina and Pan Dulce recipe by Guillermo Martinez
Christmas in Argentina is truly unlike any other destination, with preparations for the holidays beginning in late November and early December. With its own distinct customs and celebrations, this country is the best place to take in the Christmas season.
Christmas eve is a family celebration in Argentina and what better way to dive into the Christmas spirit than to taste the flavors of time. On Christmas eve, locals gather with their loved ones to celebrate the holiday season in homes or restaurants. Here, they enjoy laughter, conversations and break bread to some mouth-watering dishes.  Another way to celebrate Christmas in Argentina is to attend an evening or midnight mass. Argentina has been influenced by European traditions and over 90% of the population is believed to be Roman Catholic, making attending a Christmas eve mass a very common tradition.
Top traditional Argentinian Christmas foods that you need to try, include an assortment of meats such as lamb, beef and chicken, with stuffed tomatoes. For dessert 'mantecol', a semi-soft nougat made with peanut butter, 'ensalada de fruta con helado', fruit salad with ice cream and scrumptious 'pan dulce' similar to 'panettone', are all popular.
Make the holidays extra special with a homemade loaf of "PAN DULCE". This enriched Argentinian Christmas bread, dotted with rum-soak dried fruit, citrus, and almonds, is easy to make at home. Click here for a PDF of the Recipe
---