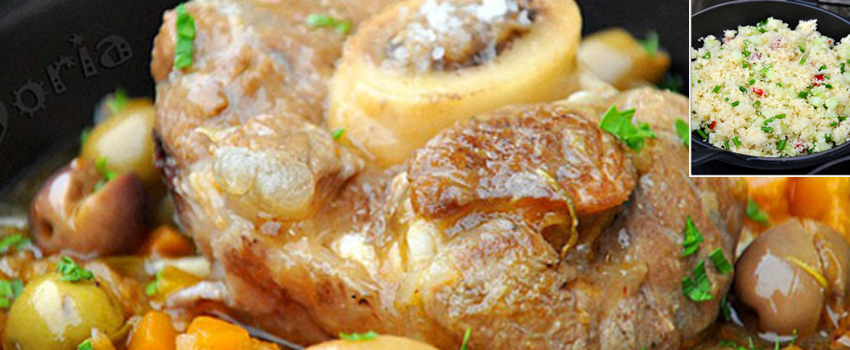 I usually use an Italian recipe (of course with variations) to cook Osso Bucco, but this recipe, intrigued me since it brought together 2 of my favorite cuisines—Italian and Moroccan. Let me first of all point out that the result did not look anything like the picture above, my Osso Buccos for some unknown reason always look more like a stew than this very tidy piece of meat with a bone in the middle, but frankly what's important is the final taste, and since nothing was left either in the guests' plates or in the pots, I was very happy with the results, and ready to share. Here we go!
This recipe should be started the day before, as it allows for the taste to blend it as well as removing most of the fat from the meat.
Gilda Dadush
Ingredients (serves 8-10)
8 thick slices of veal osso bucco
1 preserved lemon
4 medium onions
4 medium carrots
1 stem of fresh rosemary
400gr Mediterranean olive mix*
Extra virgin olive oil
1 tsp good honey
1 tsp harissa (or to taste)
Salt and pepper
Preparation (the day before)
Put some oil in a sauce pan, brown the meat at high heat (5mn per side) and deposit the slices in a pressure cooker or a Dutch oven.
Add quartered onions.
Cover with water and cook until meat is very tender. About 1 hour in a pressure cooker after it whistles) and probably 2-2 ½ hour in the Dutch oven.
When cooked, transfer the meat with a skimmer to a square oven dish, cover with aluminum paper, and reserve.
Let the remaining liquid cool, then put it in the fridge overnight
Preparation (the day of the dinner, morning)
Remove the liquid from the fridge
Remove the fat which has thickened and gathered at the top. T
Bring the liquid to a boil and reduce to half or a third depending on how much liquid you have.
Peel and dice the carrots
Rinse the preserve lemon, cut it in quarter, removes the seeds
Add to the liquid with the rosemary, harissa and honey
Cook until carrots are just tender
Add the meat and olives, mix well, return everything to the oven dish, cover with aluminum foil and let it rest.
1 hour before you are ready to eat bake in a preheated oven at 400F
Can be served with Quinoa
Quinoa with cucumber and red pepper
Ingredients (serves 8)
1 ½ cup of Quinoa
½ cucumber
1 marinated red pepper
1 small bunch of chives t
Olive oil
Salt and pepper
Preparation
Soak quinoafor 15mn and then rinse thoroughly to remove the bitter taste and drain well
Add to a pot
Cover with 2 ½ cups of water
Add olive oil, salt pepper
Bring to the boil, then reduce heat and cook covered until all water has evaporated (10-15 minutes)
Mix well, cover, and let it cool
Add the finely cut cucumber, marinated pepper and chives and mix well
Adjust seasoning (can be served warm or cold)
* I used Norepaco Mediterranean  olives (sold by Costco) they are just perfect for this dish.