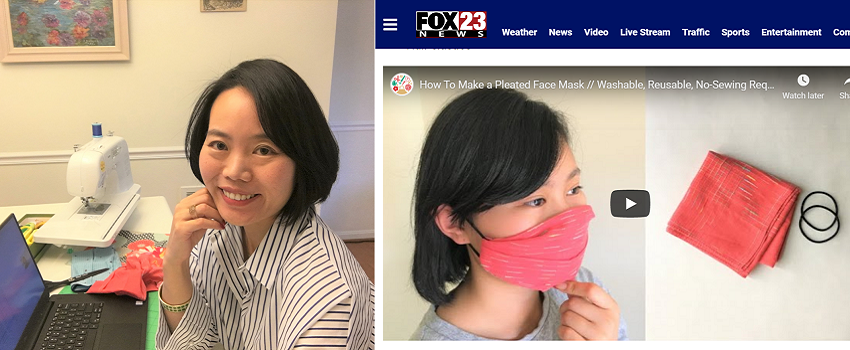 Contribution by WBFN Member Kumi Toya
My name is Kumi Toya. I am an expat partner, a mother of two, and I work from home for a Japanese crafts educator in Northern California. We arrived in Washington DC in 2018.
Mask Tutorial with Over 5 Million Views
 I am sharing my simple and easy cloth mask that can be made in under 2 minutes. No cutting or sewing is required. (Yes, it's true!)
HOW TO MAKE A NO-SEW FACE MASK USING HANDKERCHIF AND HAIR TIE  
This tutorial has been in the news across the country and visited by over 5 million people after I posted it on the internet in March.
Face Masks: A Part of My Culture and Much Easier Than You Think
Amid the impact the coronavirus outbreak has had on our day-to-day lives, people wearing face masks has become an unremarkable sight in recent weeks – a habit that just months earlier had been seen as a weird behavior of Japanese or East Asians.
As the demand for surgical masks skyrocketed making it almost impossible to find one anywhere, friends and neighbors started asking me if I could give them any advice on how to make a DIY face mask.
For decades face masks have been considered an essential armor against disease in Japan. They are so simple and familiar to me, but I realized that for those who were new to wearing a mask, handcrafting one sounds more complicated than it is.
People Liked My Masks!
After learning about volunteers across the nation donating their time, effort, and creative ideas to help ensure there would be masks to go around, I decided to publish a blog post on how to make a no-sew, pleated face mask on my company's website, hoping that I could also help society in some way. I paid 20 dollars to my daughter to pose as a model for a photo and shot a short video using my phone and embedded it into the blog post.
It was about a week later that a news director for ABC7 contacted my company seeking permission to run my mask tutorial on their news site. While I was composing a reply, another email popped up from a New York Post editor asking the same question.
In four weeks, the tutorial and video received 5 million hits and were in the news across the country including NBC, Time, Los Angeles Times, and Yahoo, also attracted attention as far as in Malaysia, Australia, Nigeria, and Greece.
Tips on Wearing A Mask Comfortably
You would be able to wear a mask more comfortably if you knew these basic tips.
HOW CAN I STOP MY GLASSES FROM FOGGING UP?
SAVE YOUR EARS WHILE WEARING A MASK
How to Sew A Mask
If you know how to sew, follow this simple tutorial to sew a basic face mask for a man, woman, or child that can be finished in less than 30 minutes.
HOW TO SEW A SIMPLE FABRIC FACE MASK
About Myself…
I love exploring new things and meeting new people from different cultures. They have helped me to open my mind. This is our seventh year in total that we live outside our home country, Japan, and we love living abroad. The whole experience has been valuable and changed me in so many ways.
I also think that we should never dismiss an idea, and always try out new things and find what we love. I am in love with creating crafts, but I was leading a life which has nothing to do with crafts for a long time. If anyone told me ten years ago that I would be in craft business, I would have laughed.
My self-imposed mission is not to be shy and take every opportunity that is offered to me. If I am invited to a book club, I go. If I am invited to a Bar Mitzvah, I go. If I see a door open, I enter. It is scary but this is my best luck to experience something exciting.