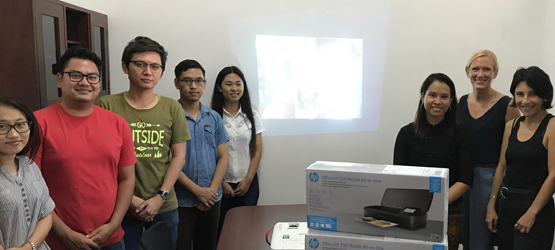 November is a month when we think about giving gifts for the upcoming holidays, but also giving back to those in need. We would like to give a shout out to the WBFN members in Myanmar (formerly known as Burma) who worked with our office in DC to organize a donation of printers. Here, member Sondang Grace Sirait tells us where the printers ended up.
With printers generously provided by the World Bank Family Network in Washington, D.C., members of the WBFN Myanmar chapter set out to identify local social, non-profit organizations in need of operational support. Throughout 2018, there were a total of twelve printers donated to three organizations operating in various sectors.
Medical Action Myanmar received one printer for each of its nine clinics around the greater Yangon area. With the main goal to provide access to healthcare for the poorest and most vulnerable in Myanmar, each clinic serves on average 90 HIV/Tuberculosis and general patients per day, or around 280,000 patients per year.
Opportunities NOW (ONOW) received two printers from WBFN. A social enterprise in Yangon, ONOW empowers the underprivileged to create businesses that provide sustainable income for their families. ONOW's STARTUP program supports young women, mostly domestic migrants, who move to the city and find work in factories. These women participate in interactive experiential training that builds confidence and real-world experience in entrepreneurship, allowing them to take their first steps out of dangerous factory labor. 
The Third Story Project, a collaborative effort between the Myanmar Storytellers and the Benevolent Youth Association, received one printer. Launched in 2014, The Third Story Project creates and produces children's books in Burmese and other ethnic languages to be distributed free of charge to children around Myanmar. The stories are written and illustrated by Myanmar artists for a Myanmar audience and address issues of peace, tolerance, diversity, gender equality, women empowerment, environment and child rights. The Third Story Project has distributed over 160,000 books in Burmese to cities and villages throughout Myanmar. More than 30,000 books in ethnic languages have been distributed, with more books in the making.