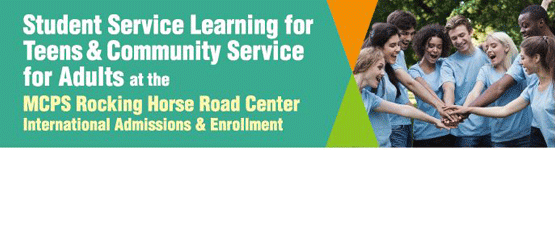 The Washington Center for International Education has a unique opportunity to help to staff two "Welcome Tables" at the entrance of the MCPS Rocking Horse Road Center. Have you heard of this Center? It is located in Rockville. All newly-arrived international families in Montgomery County whose children will attend MCPS grades 1-12 must register and handle other administrative issues at this center. This Center will welcome approximately 5000 students, from almost 200 countries, this year. It's truly an example of the world coming to Montgomery County.
We are looking for dedicated adult and high school student volunteers to help welcome families arriving at the Center, guide families from one office to another and assist families as they start the MCPS registration process. Students can earn SSL hours for volunteering. Volunteering will start in mid-July. 
Interested volunteers may sign up for half day shifts, meaning morning or afternoon shifts. from 7:45am-12:15pm or 12:00pm-4:30om. Adult volunteers are required to volunteer for at least three half-day shifts. Teens are required to volunteer for at least five half-day shifts. 
We have attached a flyer below outlining the volunteer opportunity and detailed information about required training sessions. Interested volunteers should register to attend an Information Session and a Training Session on the Montgomery Service Website (https://montgomerycountymd.galaxydigital.com/need/detail/?need_id=434317). They can also email us at communityservice@washingtoncie.org if they have any questions.