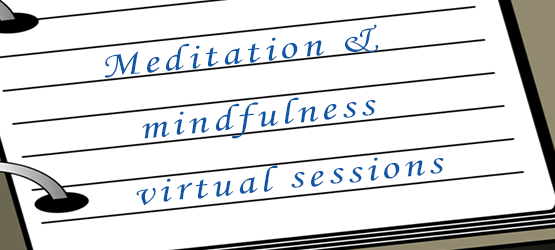 Dear Participants:
These sessions start at differant times, please take note of the time for each scheduled event and day. Thank you
---
Monday, April 5 – Meditation (35 min) with Vanessa – Grounding Meditation & Root Chakra
12:10pm EST        
This Meditation will be hosted by Vanessa Ferragut, an STC at the IFC and local Reiki Master. Grounding Meditations include releasing that energy which does not serve you to make space for the energy in our lives that does.  
Monday's session will begin a 7-week exploration of the chakras. We will be starting with the Root chakra this week. Our Root Chakra represents our foundation – our career, our homes, our finances. Foundations we need to keep strong and balanced to create and grow from there.
Meeting number (access code): 172 618 9684
Meeting password: whKcidsm647
Join by Phone: +1-650-479-3207 
---
Wednesday, April 7 – Guided Meditations (35 min) with Anjali
12:15pm EST
Wednesday Meditations will be hosted by Anjali Moreno, an ETC at the World Bank and community Yoga Instructor. These meditations include breath work, light movement, and themed guided meditations—rooted in Mindfulness practices. 
Join Meeting Here: https://worldbankgroup.webex.com/worldbankgroup/j.php?MTID=m5cfa08b24359d1d63c366ff366c605af
Attendee access code 138 129 29
Join by phone
1-650-479-3207 Call-in toll number (US/Canada)
---