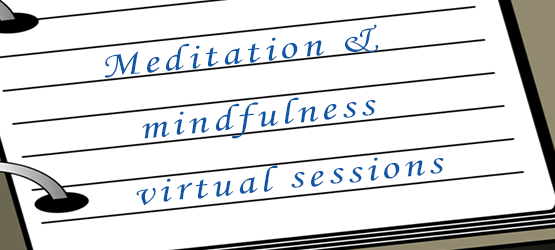 Dear Participants:
These sessions start at differant times, please take note of the time for each scheduled event and day. Thank you
---
Monday, Jan 11 – Meditation (35 min) with Vanessa – Grounding Meditation and Letting Go of Anger
12:10pm EST
This Meditation will be hosted by Vanessa Ferragut, an STC at the IFC and local Reiki Master. Grounding Meditations include energy work with a focus on chakras, and the movement of energy found in Reiki practices. Reiki is a Japanese form of stress reduction by moving energy around the body. 
This Monday meditation will walk us through a grounding exercise to help us let go and release any anger felt after recent events.
Meeting number (access code): 172 618 9684
Meeting password: whKcidsm647
Join by Phone: +1-650-479-3207 
---
Wednesday, Jan 13 – Meditation with Shawn
12:10pm EST     
Wednesday Meditations will be hosted by Shawn Powers, an education Economist in LAC. In these sessions we will explore different tools of mindfulness meditation to support our well-being and our work.
Meeting number (access code): 732 862 735 No Password
Join by phone: 1-650-479-3207
Join from a video conferencing system or application
Dial pr1413867@worldbankgroup.webex.com
Skype pr1413867.worldbankgroup@lync.webex.com
You can also dial 173.243.2.68 and enter your meeting number.
---
Thursday, Jan 14 – Yin Yoga (1hr) with Sarra Tilila Bounfour, Yin Instructor at the WBG
7:55am-9:00am EST (1hr)
"Yang is about changing the world; yin accepts the world as it is. Neither is better than the other." (Bernie Clark)
A great complement to any yang exercise focused on muscle strengthening and cardio, yin yoga is about improving joint mobility and creating openness through the body. It is a slow practice built around stillness and is adaptable to all levels. No equipment required but ideally you will practice with 1 mat, 1 blanket/bolster and 2 pillows/blocks depending on what is available to you.  
Meeting number (access code): 180 518 4934
Meeting password: bNN64QFHeV4
---
Friday, Jan 15 Meditation & Breathwork (30 min) hosted by Isha
12:00pm EST
Isha began practicing meditation at eighteen and is a certified yoga, breathwork and meditation teacher. Isha has taught meditation and wellness sessions at the UNDP, UNWomen and various universities and schools across the US, UK, India, China and Turkey. Friday meditations will focus on energizing breathwork followed by a guided meditation to align with our outer and inner environment.
Meeting number (access code): 172 037 4963
Meeting password: takeabreak123!
Call-in toll number (US/Canada) +1-650-479-3207,,1720374963##
---