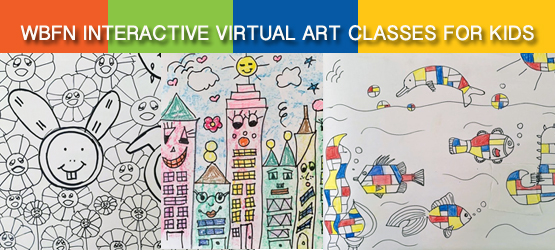 WBFN Drawing Sessions are for the kids to experience art, but also practice the basic forms of creative coping skills (such as scribbling, doodling, coloring, drawing etc.) to deal with a stressful environment especially during the outbreak of COVID-19. Drawing Sessions are for the kids' ages 4 to 12. Kids will be able to raise hands, ask questions, see the other kids and share their artwork with each other.
Asmin Sen will provide a Zoom link and a password to the families after they sign up. The art classes are on last Monday of every month. Please note new day and times as previously posted.
Kids Drawing session
1st Monday of the month 7:00-7:30 pm
Please RSVP. Space is limited. 
https://www.signupgenius.com/go/10c0f44aaab28a6f58-wbfn(link is external)
Supply List: Kids can use any medium such as pencil, color pencils, markers, watercolor etc. and any kind of art papers that may have at home.
We are looking forward to WBFN kids to join our Virtual Drawing Sessions!
Contact Details: Asmin Sen
Phone: (202) 492-8144
Email: info@asminartstudio.com
Website: www.asminartstudio.com
---