Dopamine Teens - Parenting Screen Time in the Wake of COVID-19
February 9, 12:00 - 1:00 PM EST
To watch live by webex click HERE.  
Meeting number: 2309 206 6858
Password: PSwAJj6Pg52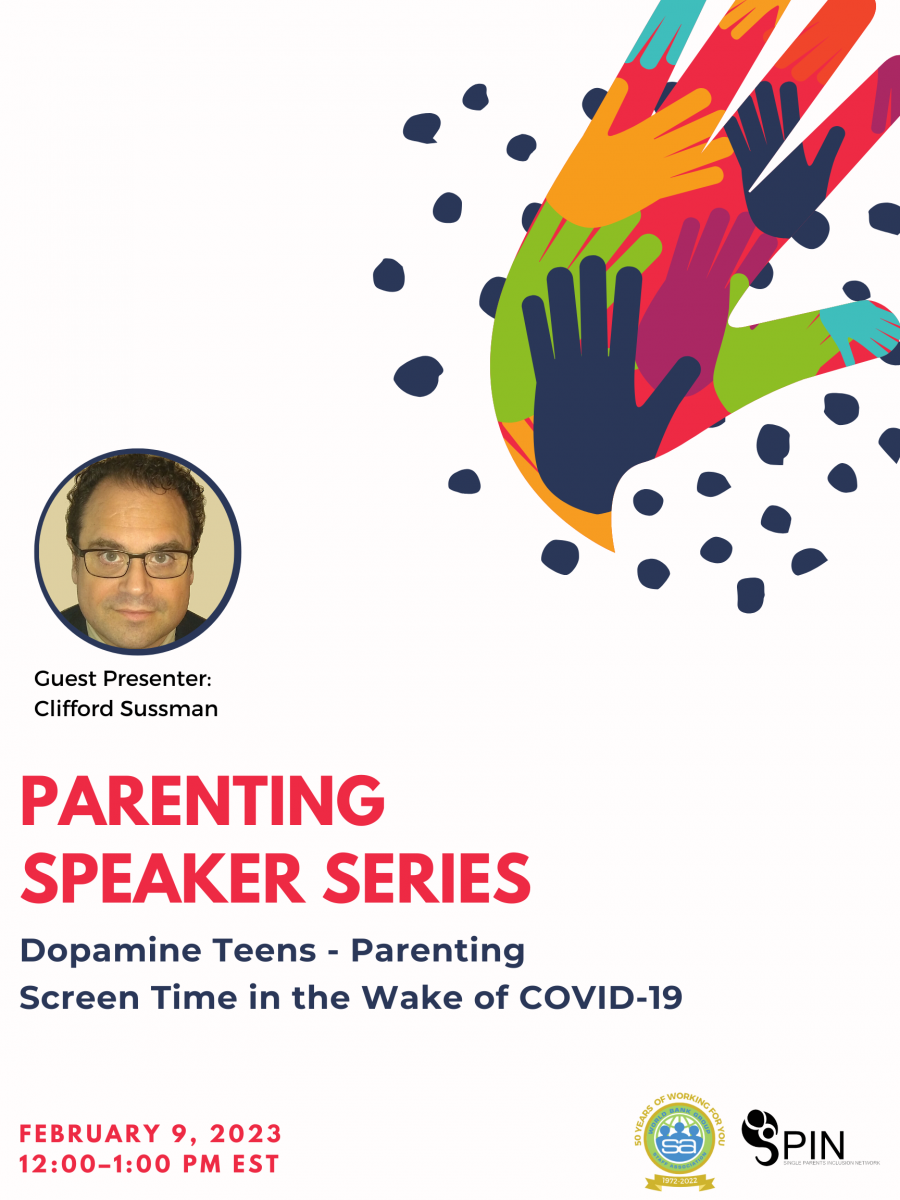 The Staff Association is partnering with the Single Parents Inclusion Network (SPIN) to host a series of parenting webinars. Each session will focus on different topics, provide tools, and guidance from experts to help staff with practical and relevant parenting advice.
Clifford Sussman, MD has been in private practice in psychiatry for children, adolescents, and young adults since 2008 in Washington, DC, where he specializes in treating internet and video game addiction. He also treats patients with comorbid conditions, such as ADHD and Autism Spectrum Disorder. Dr. Sussman's expertise on digital addictions has been featured in several well-known media sources, including the New York Times, HBO's Real Sports with Bryant Gumbel, TIME Magazine for Kids, Attention Magazine, Bethesda Magazine, Parents Magazine, and books such as Overcoming Internet Addiction for Dummies and Raising a Screen Smart Kid by Juliana Miner. 
Dopamine Teens - Parenting Screen Time in the Wake of COVID-19: One lingering pandemic hardship for parents is reducing excessive gaming and internet use after teens have had open access to screens. Dr. Sussman, a gamer himself, will talk about what makes today's popular multiplayer games, social media, and streaming videos so addictive, as well as why balancing low dopamine and high dopamine activities is key. As a screen use disorder expert, he'll explain exactly how excessive screen use affects our teens' brains and give you a straightforward plan and practical tips for setting age-appropriate limits and reducing power struggles. He will also discuss how to recognize when professional help is needed and what options are out there. 
If you miss this session, you can retrieve the recording and past recordings on the group's Parenting Series page.
---
About SPIN: The Single Parent Inclusion Network focuses on assisting single parent staff – single by choice, widowed, or divorcing/divorced – in COs and HQ with a combination of support and advocacy. To join, please send a request via email to:  staffassociation@worldbank.org. 
---
Please note, we have curated a list of speakers from the good experiences of fellow SPIN members. One of our mandates is to help one another with information and resource sharing. Many of these speakers do not charge to speak to us and thereby hope that their talk will generate some business. Workshop participants are responsible for making a selection for a service based on your own individual needs. 
---