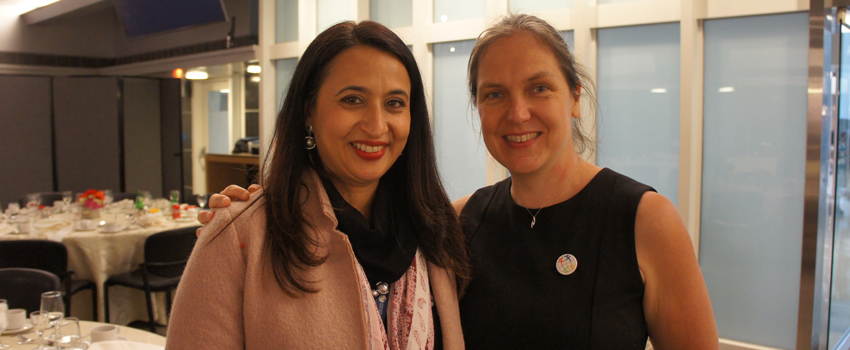 February 2020
Greetings dear members,
This month we are celebrating Diversity and Inclusion and where can it be done better than at the Family Network!  We are very fortunate at the World Bank Group Family Network to have a genuinely diverse population. We are constantly interacting with people from different cultures, communities and backgrounds and this is where we feel at home. Many of us who have experienced the life of accompanying spouses/partners feel comfortable only when we are in the company of others who have similarly led this life. To all those in our community who foster this spirit of diversity and inclusion, a big cheer!
Some of the children in our community have been exposed to a wide range of cultures and ways of life in their young lives. When they are born in one country, raised in another but their parents are from yet another different culture, they are 'third culture kids'. This has made them very accepting of people of all different backgrounds and orientations in a very genuine sense.  They understand that at the core, we are all the same. Let us celebrate the diversity in our respective communities!
Advocacy
As advocates for the WBFN community we are constantly working so that our collective voices are heard. We are in touch with senior staff members on a regular basis, making them aware of the needs of our community especially in light of the WBG advancing in its goal of increasing the Global Footprint. Together with our partners in WBG we are trying to ensure smooth transitions for our families during this process. We will be participating in the FCV (Fragile and conflict, violence affected states) recruitment fair here in DC, highlighting our presence Worldwide through our Regional Champions, local champions and connectors. Many thanks to our volunteers globally who are selflessly working towards creating a sense of community. We are all here for the families!
Coronavirus
We are aware of the current uncertainties raised by the spread of the Coronavirus and are keeping abreast of the developments related to the same. Here are some useful links for you to know more:
Centers for Disease Control USA
Whether you are in DC or abroad, if you are distressed about the spread of Coronavirus please feel free to access the Family Consultation Services of WBG Family Network at +1 202-458-5550 or  familyconsultationservice@wbfn.org. This is a complimentary service provided by the WBG Family Network.
With our warmest regards,
Marie- Noelle Taillandier, President
Padmini Mahurkar, President Operations